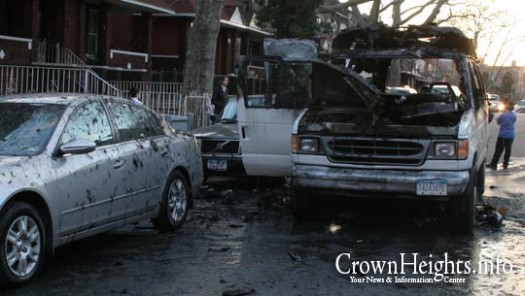 One of the 'Major Ambulette' vans was dropping off a patient today at the building on the corner of Montgomery and Kingston, when the driver noticed smoke coming out of his dashboard. He immediately exited the van and poured water into the air vent in attempt to stop whatever was happening. A minute later the window fogged up and flames began coming out of the dashboard and engine bay quickly engulfing the entire van in flames, and from the heat of the fire the driver side airbag exploded.
Shomrim members had arrived immediately on scene and quickly instructed bystanders to stay back and away from the van, and seconds later from the intensity of the flames, the windows exploded in a shower of hot glass where bystanders were standing just moments earlier. Also from the heat the headlights and tail lights of the cars parked next to this van had melted! FDNY arrived 3 minutes after the call to 911 and put the fire out, the roof was a problem since its made of fiber glass it absorbs flames therefore they had to tear up the entire roof to make sure there was no fire there. Debris from the fire and fiberglass roof littered the street and parked call all around the van.
The driver who is 50 and has been working for 'Major Ambulette' which operates out of Staten Island, for 2 years said that there were no known issues with the van and it had operated well, until today.
More pictures in the Extended Article!