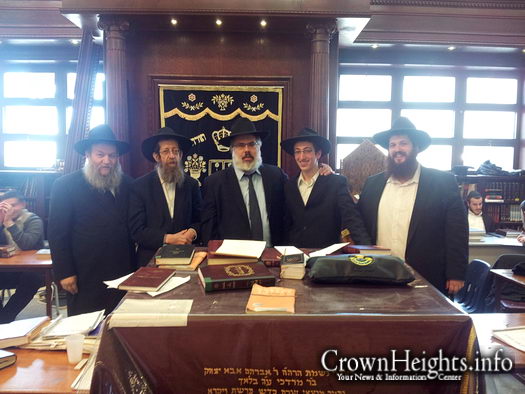 On the 19th of Kislev, a campaign was launched in Yeshivas Tomchei Tmimim – Chovevei Torah to study Tanya Baal Peh in Memory of Hachosid HaShliach Reb Mendel Labkowsky OBM.
The bochurim were Promised a reward of $500 cash for memorizing 12 new Prakim of Tanya Baal Peh by Yud Alef Nissan – the Rebbe's 111th birthday.
Crown Heights attorney Reb Shimon Aharon Rosenfeld, who sponsored the Mivtza, expressed to the Bochurim that he felt this was the most appropriate way to honor Reb Mendel Labkowsky, who was known for memorizing 70 Perokim of Tanya for the Rebbes 70th Birthday, "Shenas Hashivim".
In honor of 200 Years of the Alter Rebbe's Histalkus, and in accordance with the Rebbe's directives that things be done connected to the special number of that Histalkus, (200) a new dimension was added, where bochurim could memorize 200 lines "Bevas Achas" and receive 200 dollars.
The bochurim who were successfully tested were: Hatmimim; Nissan Yom-Tov, Menachem Mendel   Avizrat, Menachem Mendel Karp, Menachem Mendel Perl, Yosef Yitzchock Zirkind, Yitzy Shimshoni, Yitzchock Bacher, Menachem Chayimpour, and Dovid Deray.
The Menahel Rabbi Mendel Blau,who tested the bochurim, noted that when he was in Yeshiva, it was not so common to see a Zal Bochur devote himself to Memorizing Osiyos Hatorah Baal Peh.  To see such a strong response , with so many new Prakim of Tanya memorized, was truly inspiring.
This Mivtza ran concurrently with a Mivtza to Learn and memorize the Entire Mesechta Bava Metzia.