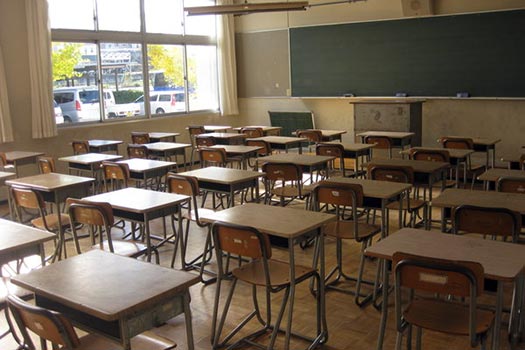 Illustration photo
by Anonymous
Every few months, we are met with a variation of the same headline: Teachers on Strike Due to Lack of Pay, School to Remain Closed. The Tuition Crisis, as it has come to be known, is a menace always lurking in the shadows, ready to pounce at any moment.
But why does this crisis perpetually exist? After-all, there is no corresponding "supermarket crisis," in which the supermarket owners go on strike due to lack of pay for the food they provide to our families.
There are two easily identifiable causes: 1. Waste and mismanagement by the school's administrators. 2. Many parents are not up to date with their children's tuition, and some schools (perhaps rightfully) feel that it would be inappropriate to send a child onto the streets due to her/his parents' financial troubles.
Now let's do some math:
A normal sized classroom has 20 students. A very reasonable tuition is $5,000 per year. $5000 x 20 = $100,000.
The solution is staring us in the face. Parents should pay the teachers directly! If a teacher would receive only $5,000 from each of 20 students, they would make a six-figure salary!
No longer would the tuition money be filtered through an ineffective administration and a few cents on the dollar trickle down to the foundation of the school – the teachers – but only after everyone else, from the top administrator to the janitor, was paid first. The money will filter through the teachers now, and trickle up to everyone else.
How will that work? What about the building costs? The administrative costs? The janitors and cooks?
Simple, the school will charge a fee to every teacher to "rent" their classroom. Like all rent payments, this fee will include all administrative and maintenance costs.
What if the administrator jacks up the fee, leaving the teacher with hardly a paycheck remaining? Simple, the teacher can take his/her business elsewhere. There are dozens of Shuls in Crown Heights that sit empty all week long. If, say, Bais Rivkah charges a classroom fee that is too high, a teacher may calculate that it's worth it to run her classroom in a shul or community center, while paying for the rent and cleaning costs (etc.) out of her own pocket.
While there undoubtedly are benefits to a unified school in one building, none of these benefits outweigh the dire importance of teachers being paid a proper wage on time. In fact, the lack of pay is the primary cause that drives talented teachers away from our community and away from this career altogether. Implementing this system will make teaching a highly attractive and lucrative career, and it will attract the most talented young men and women into the field of Chinuch. Any benefit to having a classroom within the environment of a large school building will surely be outweighed by the benefit of having talented and motivated teachers educate our children – wherever that may take place.
Who will provide lunch? that is up to the teachers and parents. Some teachers may choose to charge a bit more and provide lunch, and some may just have the parents send lunch with their kids (which is how most public schools in this country operate).
And what about those financially struggling parents who can't pay. I have two responses:
1. Why should the teachers be the scapegoats to bear the burden of those less fortunate? Why not the grocer? Why not the landlord? Why is it that everyone requires on-time payment – or else no service – but when it comes to education suddenly it's ok to cry poverty and not pay the bill. $400 a month per child is a very reasonable fee for a child's education, even for those who are struggling. Maybe they'll have to make some hard choices. Maybe they'll have to forgo the car, or eating out, or hosting Shabbos, or that summer vacation. But which of those things is more important than paying your child's teacher on time?!
2. I'm sure that if teachers are paid on time by the vast majority of their students, they will make room for those one or two students whose parents truly cannot pay. It can be their Maaser; for every nine paying students, they will accept one student who cannot pay. Or two students at half price. This should be more than enough to make sure no one ends up on the streets – but that no one is getting a free ride at a poor teacher's expense either.
In practice, what I'm suggesting is nothing new. I'm merely advocating a return to the way things were for hundreds of years in the "old home." Parents paid the Melamed directly for their children's education, and it was up to the Melamed to make all other arrangements, such as location (which was usually a room in the town's synagogue. In fact that's how the synagogue got the name "Shul" which is the word for school in German/Yiddish). The Melamdim would accept less money from the poorer students, while the wealthier ones were happy to pay for the Jewish continuity of their town's next generation.
Enough with the talk, let's talk practicality.
Someone should build a simple website where teachers can list their services, for example:
Rabbi M. Cohen – Boys' Teacher / Grade: 7th/ Experience: 4 Years / Classroom Size: 18 Max. / Cost: $4,500 per year / Lunch: not included / transportation: Not included.
Mrs. N. Levy – Girls' Teacher / Grade: 4th/ Experience: 15 Years / Classroom Size: 20 Max. / Cost: $5,600 per year / Lunch: included / transportation: not included.
Prospective parents would apply directly to teachers through the website, and would have to submit a credit card to which the monthly tuition could be billed. The teachers will have the option to require that one extra month be paid in advance, so that in the event of non-payment, they will have a full month to obtain the remaining funds without having to resort to either sending the child home or being unable to make their bills.
Each classroom in this network (despite potentially being in separate locations) can be considered one large school, and can gather together on special occasions for a school-wide rally and other such events.
The power is in our hands to take back control of our schools and our children's education. When will we exercise it?