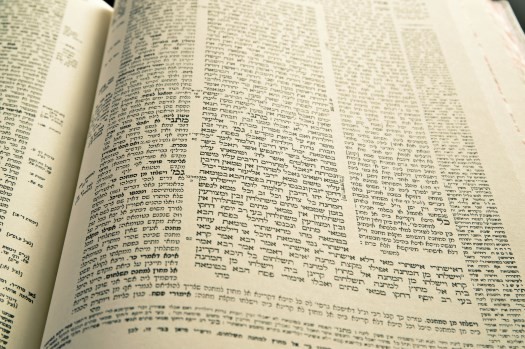 Illustration photo
In response to a recent op-ed written by Rabbi Alexander Heppenheimer of Crown Heights, who encouraged Lubavitcher Chassidim to take up the daily study of the Daf Yomi, which stirred much controversy due to the Rebbe's purported distaste for the custom, renowned educator Rabbi Yossi Paltiel had this to say:
Dear Rabbi Alex,
I'm signing my name at the bottom of this note, as one of the people you consulted about this article.
I will explain in short why I supported this idea and actually encourage you to start the shiur three and a half years ago.
There is an entity in our lives that many of us try to make believe does not exist, but by doing so we actually make ourselves more vulnerable to him.
That entity is our Yetzer HaRa. He schemes and connives and uses every imaginable trick to derail any
effort that we may have a doing anything good.
Ideally we should be fighting the Yetzer HaRa at every turn and in each aspect of Our Lives.
There is however another idea, where we can convince the Yetzer HaRa that the good things we want to do, he wants to do as well. This may not be ideal and may not have been correct in an earlier time but we would all be better Jews if we used our Yetzer HaRa in this way.
There is no question that the idea of completing the entire Shas has an enormous appeal to the Yetzer HaRa. Consequently when one undertakes this initiative, his motivations may not to be the holiest and the highest, but there is a considerable likelihood that he will see it through.
I have a friend whose father is completely not Frum who saw on television when they completed the Shas the last time. He called up his son who is a Ba'al Teshuva and he told him "I would also like to complete the entire Talmud". He joined an existing class in Daf HaYomi and it wasn't very long before he began to keep Shabbos.
Torah and particularly Gemara we're and are very very important to the Rebbe. There were years where the Rebbe demanded that each person include along with his Pidyon Nefesh for Rosh Hashanah a list of his regular Shiurim. And the Rebbe was not referring to ChiTaS.
The question on the table is not whether the idea of Daf HaYomi is or is not a Lubavitcher idea.
The question is a simple one: if by advertising the existence of these classes and encouraging people to join, will this increase the number of people in our community who learn Gemara every day?
This question need not be answered because the answer is obvious to all.
The idea that more people will be learning Gemara even if they're getting help from their Yetzer HaRa would undoubtedly give the Rebbe much Nachas.
The fact is, that too many people in our community that could/need to learn more Torah. The idea that somehow this is a reflection of what the Rebbe wants is ludicrous.
In principle maybe advertising Daf HaYomi isn't the most ideal way of encouraging an increase in Limud HaTorah, but in practice any class that teaches and encourage people to learn Torah is Hatzalas Nefashos Ruchni Mamosh and is so necessary and must be encouraged.
In other words, the principle of always focusing on the practical, the action, makes this a good thing.
And the Rebbe lives in the practical world of Lo HaMidrash Ikar Ela HaMa'aseh. In this world this suggestion can (in my opinion) only add Nachas to the Rebbe, and nothing else.
Linking this endeavor to Yud Aleph Nissan is also appropriate, as the Rebbe said publicly on more than one occasion, that if you wish to give him a gift that he will value and enjoy "begin with Torah".
I will conclude with several anecdotes of the Rebbe which will give some idea of how he thinks about certain traditions of ChaBaD in the 'modern world'.
A Yid from Crown Heights went to Miami Beach for the winter. Eight o'clock Shabbos morning he encountered a Bochur at the Yeshiva asking Reb Laib a question in Gemara. An involved conversation in Niglah developed on Shabbos
The Observer found this odd and reported it to the Rebbe when he returned to New York. The answer he received from the Rebbe was something to the effect, "thank you for the good news and I hope you will continue to send me such good news in the future".
A Lubavitcher young man visited a modern Orthodox Bungalow Colony One Summer. One of the people at that colony was a student of Rabbi Soloveitchik 'The Rav' from Yeshiva University. Because it was the month of Elul he gave a class in what his teacher would teach, Likutei Torah on Elul and Rosh Rabbi Soloveitchik [it is widely known] held that the only way to understand Rosh Hashanah correctly was to learn it in Likutei Torah, without it Rosh Hashana makes little sense.
In the course of his learning the teacher made reference to Tanya chapter 32 and he referred to it as we would "ב"ל פרק תניא".
This Lubavitcher young man was so positively moved by this that he wrote the story into the rebbe.
The answer that he got was approximately the following וכן 'וכו אונז ביי און צו קומט זיי ביי הפתגם ידוע להיפך.
I will not translate these words I'll allow everybody to figure out what they mean for themselves.
A Bochur in the Yeshiva who was very bright and a big Talmid Chochom was afflicted with a predictable problem. He had a very great ago and he thought very highly of himself. His friends harassed him about his ego and in the good spirit of Lubavitch that doesn't suffer anybody's ego they tormented him.
They bothered him so much that he actually decided to ask the Rebbe what to do about it.
He raised the issue to the Rebbe in his next יחידות. The Rebbe's response was approximately this זאל נו וואס מיט זיין כאטש. This means [in English approximately] whatever you think of yourself be. In other words if you have an ego and a high opinion of yourself- earn it.
He didn't tell the cancel his ego he told them to turn it around. In other words that he should use his Yetzer HaRa for good things.
No one questions that it was traditionally unthinkable in Chabad to learn Nigleh before davening on Shabbos and to tolerate a Ba'al Ga'ava, yet the Rebbe did and there's a very simple reason for it: it works, and we need all the help and motivation we can get including this.
And about ביי זיי קומט צו און ביי אונז… וכן להיפך draw your own conclusions.
I believe that this is a similar circumstance.
In any case the point is you, Rabbi Alex, should keep doing what you're doing.
I'm humbly making an announcement to all of Crown Heights if you want to come to a very good class in Gemara in English delivered very clearly and lucidly [that happens to cover a Blatt a day allowing you to complete the Shas in seven years] visit us at the bottom of the hill, at Empire Shtiebel. Join Rabbi Heppenheimer's class and you will not regret it.
He's very good, and he's brilliant, you will learn and enjoy it, which [learning and enjoying Torah] is another idea that goes against ChaBaD tradition, that the Rebbe adopted.
Keep it up.
Your Sterling St. neighbor,
Rabbi Yossi Paltiel