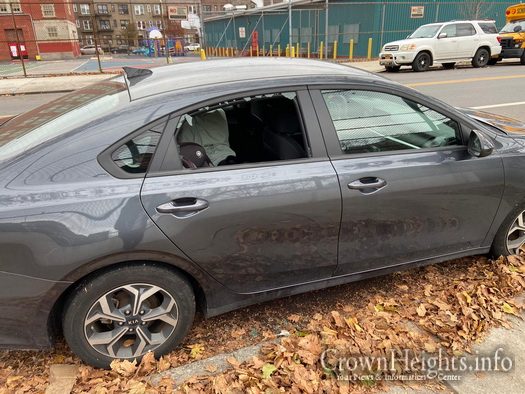 by CrownHeights.info
Crown Heights car break-in spree continues with the most recent victim having parked overnight on East New York Ave.
The grey KIA sedan had been parked between Albany Ave and Kingston Ave on East New York, a hotspot for car break-ins due to its lack of surveillance cameras.
Three cars were broken into at the same spot just last week Wednesday night.
The perpetrator of these car break-ins shatters car windows to gain access to the vehicle and rummages around looking for loot.
These break-ins are not isolated incidents, with a string of break-ins having been reported nearly daily for over a week.
These break-ins have stirred a growing discontent as these incidents are felt by the community as being treated as unimportant by the local NYPD precinct.
A car owner who had his car broken into this past week reported that the 71st Precinct responded with "okay," to the break-in, as if there was nothing to be done.
November 14th: More Vehicles Broken Into Over Shabbos in Crown Heights
November 12th: At Least Three More Cars Broken Into Overnight In Crown Heights
November 11th: Car Break-Ins Continue in Crown Heights With At Least Two Vehicles Targeted
November 8th: Motzei Shabbos Car Burglar Strikes Again
CrownHeights.info would like to remind all residents to make sure your vehicles are secured, and all valuables removed before leaving your vehicle.
If you have had a theft or break-in, please send any pictures and footage to news@CrownHeights.info, or to our WhatsApp at 718-285-8000.