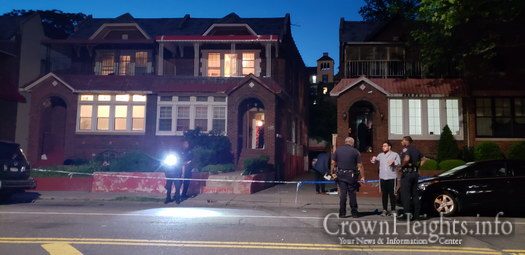 Police have released surveillance video and are seeking the public's help in identifying a suspect in connection with the brazen shooting of two people inside a house on Lefferts Avenue last week.
by CrownHeights.info
A man and a woman were shot inside a house on Lefferts Avenue on Sunday, June 17, and police have been investigating the incident since.
This morning police have released surveillance video of a suspect they are seeking to identify in connection with the shooting.
Following the shooting witnesses said that two or possibly three people walked up to the front door of 669 Lefferts Avenue and opened fire and striking two people inside, then fleeing the area. One of them was observed wearing a "do-rag".
EMS rushed the victims to a nearby hospital where they were being treated for their wounds, and are expected to survive.
The shooting occurred just outside the Beis Eliyahu Nochum synagogue where evening prayer services were taking place.
The 71pct is looking for information regarding a shooting that occurred at Troy and Lefferts

Anyone with information in regards to this incident is asked to call the NYPD's Crime Stoppers Hotline at 1-800-577-TIPS (8477) pic.twitter.com/01TU5dOB0Z

— NYPD 71st Precinct (@NYPD71Pct) June 26, 2018