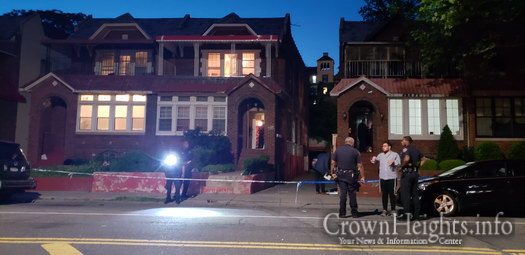 Two people suffered gunshot wounds after shots rang out on Lefferts Avenue on Sunday evening, with many witnesses in the area and prayer services just ending at a Shul across the street.
by CrownHeights.info
A man and a woman suffered gunshot wounds, one to his leg and the other to her chest, after a number of gunshots rang out on Lefferts Avenue near Albany Avenue at around 8:30pm.
Witnesses said that two or three people walked up to the front door of 669 Lefferts Avenue and opened fire, striking two people inside, then fleeing the area. One of them was observed wearing a "do-rag".
EMS rushed the victims to a nearby hospital where they were being treated for their wounds, and are expected to survive.
Police called a level 1 mobilization and opened an investigation.
Residents on the block expressed concern over the shooting taking place just across the street from Beis Eliyahu Nochum, where dozens of men were partaking in evening services.