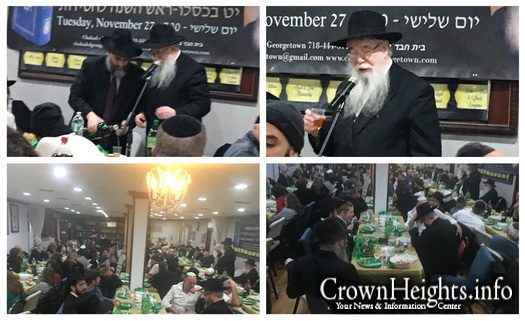 This years Yud Tes Kislev at Chabad of Georgetown organized by Shliach Rabbi Avrohom Holtzberg, was one to remember. The place was filled to capacity with people from the neighborhood who came to commemorate the special day.
As a fully catered meal was being served everyone listened intently to the speaker of the evening; the esteemed Rabbi Chaim Boruch Halberstam. The crowd sat in awe hearing the stories he recounted; stories of which no one has heard, stories from Rabbi Halberstam's first hand and personal experiences with the Rebbe and Rebbitzin. They were told of incredibly unique accounts from the time he worked in the Rebbe's home and was the photographer and Videographer of the Rebbe's encounters on the Dollar line each sunday.
Following the moving lecture, there was heartfelt singing and dancing to the live music by Rabbi Yossi Goldstein. Everyone left that night feeling uplifted and filled with newfound inspiration.