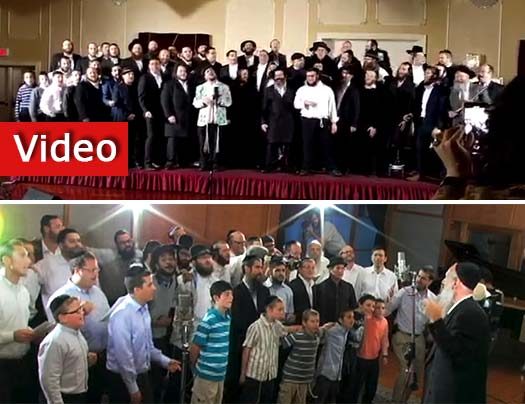 Stars and community activists got together in Monsey, New York to recreate the "Unity for Justice" video that was produced seven years ago to raise awareness for the unusually harsh sentence imposed on Sholom Mordechai Rubashkin. At the event they were joined by Rubashkin, who sang together with the performers.
A "Rubashkin Unity Event" was held in Ateres Charna Hall in New Square on Monday afternoon.
At the event were many Jewish music stars, who came to do a remix of the "Unity" song which was made when Rubashkin was given his harsh prison sentence. The video was featured on YWN in 2010 and was viewed nearly 1 million times since then.
Many Askonim and community activists who worked on the Rubashkin case were in attendance as well.
Seen in the video is Rabbi Pinchos Lipschutz of the Yated dancing with Sholom Rubashkin. Rabbi Lipschutz was one of the individuals leading the fight to have Rubashkin released from prison. Although many people did many things to help Rubashkin, not a week went by – for eights years – where the Yated didn't have some sort of update on the Rubashkin case. Many articles were in depth, and explained the travesty of justice that was delivered to Rubashkin. Rabbi Lipschutz single-handily kept the Rubashkin case alive in the Orthodox Jewish media as he championed the cause every single week.