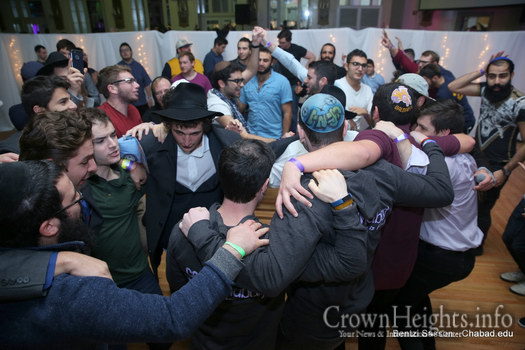 by Mendy Hakoën
"You can count on me like one two three / I'll be there / And I know when I need it I can count on you like four three two / You'll be there…'Cause that's what friends are supposed to do, Oh yeah!" (Bruno Mars lyrics, 2010)
While these lyrics emanate from a non-Jewish songwriter and singer, they reflect the essence of Chabad on Campus.
This Saturday night, in the 18,000 square foot Crown Heights ballroom in the Oholei Torah School, the annual JewFest event took place, hosting 1,200 university students from around the world. Students from Paris, London, Canada, and all around America, packed the house.
Why were so many young students, coming from reform, conservative, unaffiliated and intermarried background, coming to a ballroom where most orthodox weddings in Crown Heights are celebrated? You should have been there to witness it. Let me try to take you there.
Saturday night, at around 8pm, I was walking into the Oholei Torah building, the place was transformed from an orthodox and conservative style facility to a state of the art Kosher party place. The entrance was cordoned off with red velvet cordon, as seen at Manhattan high style venues. Security guards greeted me with a smile.
Once inside the building, the lights were pleasantly dimmed with fluorescent red, blue, and while lights shining from the bottom of the walls to the ceilings. The decor was superb, hip and cool; you felt as if you were in a different neighborhood. Waiters stood by with cocktail glasses of different flavors and colors.
Once I entered the main ballroom, it was magical! The place looked like a top-class concert or party hall. The stage was filled with spot lights and digital lights emanating from a giant digital backdrop. It was surreal. Food stations serving a Middle Eastern menu were filled with a broad selection of meats and delicacies.
This evening known as the  JewFest, was the culmination of a Shabbton organized by Chabad on Campus for their annual reunion.
Chabad on Campus was created by  Merkas L'Inyonei Chinuch in 1969, under the leadership of Lubavitcher Rabbe. In 2008, Rabbi Yossi Gordon was appointed as its Executive Director, and under his leadership, Chabad on Campus developed into a mega-organization; 260 universities, 250 Rabbis, a budget of $7.5 million, and it grew to become widely recognized and respected around the world.
In September 2016, the first scientific study in Chabad's history was released by the Hertog Foundation researching Chabad on Campus activities. The findings were staggering, but not surprising. Chabad on Campus attracts students from a wide range of Jewish background and most students are not orthodox.
Students are not initially attracted because of Jewish learning or rituals, but rather by the social environment, Shabbat dinners and the amicable atmosphere. They feel attached to their Jewish identity and Israel after leaving school. And Gender matters! The special relationship between guys and the Rabbi and between girls and the Rebetzen is undeniable.
How Chabad on Campus success has exploded in just several years? What drives the success of this organization? And most importantly, where is this organization going?
The answer is simple: Chabad on Campus is unique. And it leads the future of Chabad and the future of Jewish life. To fully appreciate this statement, I must take you back to the ballroom on Saturday night.
The music played by the DJ is deafening, exceeding 100 decibels. (which is about 100 times louder than what any ears should be exposed to for more than 15 minutes at a time!) The beat is amazing and captures your inner rhythm of dance. The students are all dressed casually, jeans, t-shirts, comfortable shoes, and everybody seems in a great mood. The dances start on two sides, separating the guys and the girls. The DJ plays all the top hit songs from Israel and the US, keeping it solely Kosher (no kol Isha-female voice, as it's forbidden by Torah).
The place is rocking and the joy is palpable. Hundreds of guys are dancing disco style. And here comes a striking scenery. Each university and its students are rocking and dancing with great energy together with their own Rabbis on Campus. The Rabbis are part of this surreal play. They dance with their students in such deep love and respect, striking the common sense of the typical Rabbi standard. You can hear the emotional voice of these students: "Hey Rabbi, you can count on me/one two three, and when I need you, I can count on you, four three two."
You see, these young students are hooked on Jewish identity. They feel powerful, they feel complete with integrity. They are simply happy. They show their inner attachment to Jewish life through these powerful dances on the floor, dancing away with superbly choreographed motions, reminding all that,
"We can have fun while being good Jews." The bar and disco owners around the world can only wonder how to create such ambiance and rocking atmosphere without a drop of alcohol.
Two points are crystal clear: The message and the method.
Chabad on campus is showing (and not teaching per se) young students that as a Jew, all possibilities are achievable if we create them. Keeping the Jewish identity can only enrich the self. And the students get it. They go back home and show their astonished parents how cool the Rabbi is, how disco dancing can be a Kosher experience, and how a great life can be achieved with pure Torah insights and without outside influence (drug, alcohol, violence etc.)
In such a confused world, where the orders of life are blurred, cloudy, and foggy, the parents of these students appreciate what Chabad on Campus stands for, and they support it like never before.
These future adults will one day get married and have kids. And without a doubt they will carry with them these Jewish wild disco dancing memories, the good times, and the fervent love for their Rabbi and Rebbetzen on campus who gave their entire life for them. They will stick with the good feelings of Jewish life. They will marry Jews because they will want to stick with integrity, with the essence of life, with joy, with The Almighty G-d.
Soon these students will graduate to adulthood. They will build families and businesses all over the world. The Chabad Houses network of Shluchim should get ready to pick up where Chabad on Campus left: thousands upon thousands of Jewish souls ready to be embraced and loved.
This is the power of Chabad on Campus. And this is why the future of Chabad and Jewish life can only be credited to Chabad on Campus.
Chabad on Campus, Kudos to you!