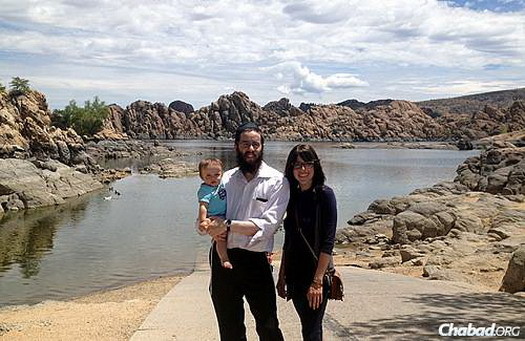 Rabbi Elie and Bracha Filler, and their 1-year-old son Mendel, recently moved to Prescott, Ariz., to start a new Chabad House.
It's a long way from New York to Arizona—nearly 2,500 miles, to be exact. That's where Rabbi Elie and Bracha Filler now find themselves, starting the first Chabad center in the city of Prescott and the 20th Chabad center in the state of Arizona.
Known primarily as a retirement city and tourist destination, Prescott is also home to about 7,000 students from three small colleges in the area. With its mountain views and artsy downtown, it also attracts Phoenix residents, who head a couple of hours north to second homes in Prescott to escape the scorching summer heat.
Unlike Phoenix and much of the U.S. Southwest, the weather in Prescott—county seat of Yavapai County, with a population that nears 40,000—is mild, with all four seasons intact.
Yet while the mountainous landscape keeps the weather temperate, it also means that most homes sit in the hills as well. The Fillers' challenge was to find one that was accessible for visitors and centrally located, which they did.
"There's a little bit of everything here," said Rabbi Filler, who estimates that about 2,000 Jewish people are among the area's mix. He, his wife and their 1-year-old son, Mendel, settled there in early December from the Crown Heights neighborhood of Brooklyn, N.Y., where Bracha Filler is from originally (the rabbi grew up in California). "It's a real frontier culture here, a little like the 'Wild West, with a mix of landscape and a mix of people."
Their first major event was a public menorah-lighting at Chanukah time—the first of its kind in Prescott. The week beforehand, the couple sent out a few hundred postcards, some email, and advertised on the radio and in the local newspaper, The Daily Courier.
They planned to hold the lighting in the middle of town, in front of the iconic county courthouse plaza. Then they discovered they needed a permit to do so.
It turns out that Prescott is known for its annual holiday lighting ceremony, which can draw as many as 8,000 people. So in December, the city doesn't typically issue permits for other events.
In the peak of the season, the rabbi called, and couldn't get through to courthouse and county officials. His back-up plan was to hold the lighting in the local supermarket, or perhaps not at all. The supermarket initially agreed to host the event, but then turned them down. So he tried calling the courthouse again.
He was able to get in touch with an assistant and explain the details of the event, and was told to call back and speak to someone else. When he did, the official replied: "Rabbi, we've been waiting to hear from you." They gave him the OK without a permit. "They were very helpful," said Filler.
In the end, the Chanukah event drew about 100 people, not to mention passersby who stopped to take in the goings-on. "We were so touched by the number of people who came," he said.
Bracha Filler added that "people were surprised to see each other there."
As her husband recited the Chanukah blessings, she marveled at how everyone seemed to join in and sing along.
"I got really emotional," she said. "It was all worth it."
The menorah-lighting appeared on the Courier's front page, with positive comments ensuing on the article's corresponding web page, including this one from William Gauslow: "I took a few laps on the square about [that] time. I came upon this group without knowing what was up. Until I saw the menorah. I walked my way through the group and was glad they were assembling. Every religion needs its form of expression. Welcome to Prescott."
Steve Fazekas wrote: "What a wonderful experience for us and Prescott. Thank you so much, Rabbi Elie Filler, and your beautiful family for taking the time and putting in the effort to create a special moment in time for all who attended. We look forward to seeing you around our beautiful city, and welcome you and your family to our community."
And Gary Rabinovich lamented the fact that he hadn't heard about the lighting; "otherwise, my family and I would have attended."
Filler said people came up to him in the street, telling him it's "so wonderful to have a rabbi in town."
"You definitely see the foresight of the Rebbe [Rabbi Menachem M. Schneerson, of righteous memory]," he said. "Everything just falls into place …
"We really feel on a daily basis that the amount of Jews we meet doesn't make sense. We're surprised at how many Jews here didn't know about each other; every day, we meet and get contacts to more Jewish residents, yet most of them thought they knew all the Jewish people here."
Big Change, Great Outdoors
Already, the Fillers have adjusted to providing Jewish needs when they're out and about.
"Originally, when we came, everyone said it's too far out," he said—that they wouldn't get a response from local Jewry. "But every time we are out, we meet Jewish people and wind up putting on tefillin." Some men have ended up in tears after the experience.
And they continually get phone calls asking when they will start to offer more—programming, events and Jewish content. In fact, they just held their first Shabbat dinner.
Bracha Filler affirmed that moving from New York, with its plethora of Jewish resources, to Prescott has taken some adjusting. "The big change for me," she explained, "is to get accustomed to out-of-town living in general. I'm used to everything being on the same avenue, and here there are so many large stores all far away from each other. I'm still trying to manage which store has whichkosher item, doing bulk shopping, and freezing cheese and meats, and then defrosting in time."
For now, they are getting their meat from Phoenix or Los Angles, though Bracha Filler noted that her husband is in contact with a local dairy, and is planning on going one morning to watch them milk the cows so they can havecholov Yisroel milk.
Another adjustment is the presence of the great outdoors, especially the wildlife. Bracha Filler recounted that so far, "we have met a pet parrot in the gas station, saw people walking their pet bunnies down town and saw a baby calf on the side of the highway—as well as many more animal interactions."
For the long term, she said "I'm opening my home to be a place that everyone can come home to. We want to create a place and an atmosphere where every Jewish person can feel comfortable experiencing their Jewishness."
She plans to offer women's courses and study, a women's circle and a "Mommy & Me" class.
'Looking for a Way to Connect'
Terry Cohen and her husband are business people who have lived in the community for 30 years. She said they would periodically get visits from rabbinical students and from Rabbi Zalman Levertov, head shaliach and co-director of Chabad Lubavitch of Arizona.
When she first moved from New York, she said it was "culture shock living in the West," but as the years go by, more and more people have come to live there.
But the Fillers, she added, represent "a really nice addition."
As for the menorah-lighting, "I didn't know what to expect or who would show up," she remarked. "It was so nice, so exciting, and they had such a warm welcome. It was just wonderful. I know a lot of people are excited about them coming."
"There are a lot of Jewish people, but they stay quiet about it. A lot aren't affiliated with anything. I'm glad that the Fillers are here because people are looking for a way to connect. He'll find a lot of people that he'll be able to help feel at home. It's a really good thing for our community."