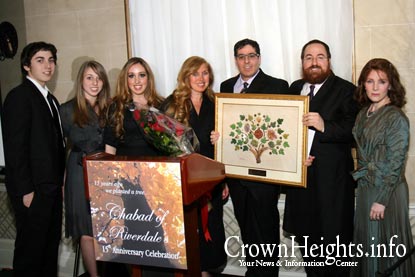 Riverdale, NY — Over 300 friends and supporters gathered this past, Saturday evening January 20 th, for a gala evening of dinner, entertainment, and tribute, celebrating the 15 th anniversary of Chabad-Lubavitch of Riverdale. The evening's theme, planting a tree and yielding fruit, was carried through in the appropriate ambience of the New York Botanical Garden. The guests of honor were Dr. Daniel & Tova Kaplan, Avi & Julie Feinberg, and Mr. Sam Harbanoff.
Daniel and Tova Kaplan, the Guests of Honor, were honored for their support and commitment to Chabad, and their selfless commitment to the welfare of the greater Jewish community.
More in the Extended Article!

Avi and Julie Feinberg were honored as Parents of the Year. Their daughter Ruthie attends the Chabad pre-school, and they are dedicated to the Chabad ideals of bringing the message of love to all.
Sam Harbanoff was honored with the Lifetime Achievement Award in recognition of his outstanding achievements and contributions toward the education, development, and well- being of children who attend camp Gan Israel of Riverdale.
The evening also included a video that recapped the history and activities of Chabad in Riverdale, and greetings from Rabbi Jonathan Rosenblatt of the Riverdale Jewish Center, Rabbi Avi Weiss of the Hebrew Institute of Riverdale & Rabbi Stephen Franklin of the Riverdale Temple and an emotional award presentation. For entertainment, comedian Mark Schiff flew in from Los Angeles to offer a half hour of improvisation and stand-up comedy.
The special warmth and love that are the trademark of Chabad made the evening a most memorable experience for the entire Riverdale community.
Chabad-Lubavitch of Riverdale thanks everyone that took part in making its fifteenth anniversary celebration, its most successful ever.