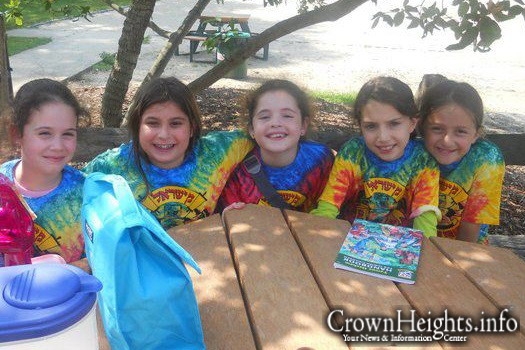 Illustration photo
Sharon Field of Teaneck, New Jersey sent her daughter Leah to the local Camp Gan Israel hoping for a "positive and fun summer." She hadn't expected her adolescent daughter who loves shopping and keeping up with her friends on her smartphone, to come away with a stronger Jewish identity.
Her counselors, explains her mother, were role models. "She loved them and has made really close friends. She has also embraced Jewish learning, improved her Hebrew and learnt Jewish history."
Field may be surprised by the results that a few weeks in camp can have on a child's Jewish identity, but research shows that children report greater levels of connection to Judaism as a result. According to the Foundation for Jewish Camp, 66 percent of adults who have attended Jewish camps considered their Jewish identity "very important," as opposed to 29 percent of those who never attended a Jewish camp. Jewish camp alumni are 50 percent more likely to join a synagogue and 90 percent more likely to join a Jewish community center than their non-camp fellows.
Given the recent Pew study indicating a downward trend in Jewish identity and commitment, the numbers are illuminating. Jewish organizations are finding that the dog days of summer spent at a Jewish camp may be a critical factor in Jewish engagement–something long promoted by the Rebbe who made summer camping a priority at Chabad-Lubavitch centers worldwide since the 1950s.
Speaking at a national camp conference in March 2014, Jeremy Fingerman, CEO of the Foundation for Jewish Camp, said that "it's very compelling to me that one of the foremost leaders in the Jewish world in the last century has said that Jewish summer camps are vital to giving kids their soul."
Back then, the Lubavitcher Rebbe exhorted Jewish leaders to make use of summer vacations as an educational opportunity for Jewish children. Today, Chabad-Lubavitch runs the largest and fastest-growing network of Jewish camps in the world and reaches thousands of children for whom this is often their only Jewish educational experience year round.
Jewish Immersion Experience
The Gan Israel summer camps offer children an immersive program that allows them to experience "applied Judaism" in a fun, non-judgmental environment. Outdoor activities, sports, competitive games, songs, kosher meals, and cultural activities are themed around Jewish concepts and conducted in a uniquely Jewish spirit that makes a lasting impression on campers.
Tia Sukenik is director of Camp Gan Israel in Plano, Texas. Established and led by Chabad representatives, Rabbi Mendel and Rivka  Block, the camp completed its 21st season this summer, serving more than 200 campers from the greater Dallas area. The director for the last seven years, Tia has seen the impact that the experience has had on campers, including her own children.
"My kids attended the camp for about 5 years before I became actively involved," said Sukenik. After learning the Shema prayer at camp, her daughter "started saying it and now we do it at home every night." She has seen this happen repeatedly. "The kids get excited about Jewish things and bring it home and it continues throughout the year. The parents love it!"
Sukenik's observations mirror findings by the National Jewish Population Survey, that camp alumni when compared to Jews of similar family, educational and denominational backgrounds show higher levels of Jewish engagement in everything from ritual observance to Jewish charitable giving to marrying within the faith.
Parents and directors at all of the camps agree that the counselors are at the heart of the experience. "Year after year, our counselors are phenomenal," says Sukenik of her staff, most of who are Chabad-raised teenage girls hailing from across the States and Canada. " For them it's not a summer job – it's a calling. They give their absolute all, and they realize how much of an effect they can have on the kids' lives. Many of them keep up with the campers after they leave."
Counselors are recruited from Chabad high schools, and "because they live an authentic Jewish lifestyle, the values get transferred in a much more real way. It's amazing to see how the kids naturally respond to it. They may have learned about putting a penny in a pushka(charity box) in preschool but they never think of it as a part of their lives until they see their counselors doing it every day – suddenly they want to start doing that too."
Gan Israel of the Valley
The Finder Family Camp Gan Israel of the Valley, one of the west coast's oldest and most respected day camps, was founded it in 1974 by Rabbi Joshua Gordon with just 42 campers. It has since grown exponentially. This summer, it served 400 campers. Over the years, thousands of children have attended the Encino based camp and have experienced a lifelong love for Judaism as a result of the "Gan Izzy" spirit.
"Our camp has had a transformative impact on hundreds of kids. I meet many former campers today who have told me that they went to a Yeshiva because of camp or they increased in their practice of Judaism," Gordon says.
Rabbi Mayer Greene, director of the camp for the last 20 years, says the camp's primary objective is for "every child–no matter where or what their Jewish background is, to grow in their Jewish identity." With the diverse set of backgrounds represented by campers–some from homes with absolutely no Jewish education and others who are fully observant, the challenge is not an easy one. But it remains "our number one goal."
The results speak for themselves: at least ten percent of the children are second and third generation Gan Izzy campers–their parents now passing the experience along to their children. "On any given day I meet parents at pick-up who were my campers back in the day. They relive their camp memories through their children and they send their children to camp for that reason – to have that same life-affirming experience which gave them so much."
Sometimes, the results are dramatic. "I have seen kids from completely secular backgrounds come to camp and are today Shabbat observant. We have kids who have gone on to become Chabad shluchim and today run their own camps," says Greene.
And almost every year there are at least a couple of public school kids who switch to Jewish day schools after camp, and others who join Talmud Torah classes. Greene says he sees campers start coming to shul and bringing their families along with them. In fact, says Greene, the local Jewish day school, Emek Hebrew Academy was receiving so many new students from the camp that they created a partnership, allowing the camp to use their facilities.
Long Term Jewish Engagement
According to research by the Foundation for Jewish Camp, camp attendance increases the likelihood of adult participation and identification in a many areas of Jewish ritual and community involvement including adults being 37% more likely to light Shabbat candles and 55% more likely to be very emotionally attached to Israel.
This summer, with the ongoing conflict in Israel, camps focused on Israel solidarity activies. At Camp Gan Israel of Great Neck, New York one bunk's initiative fast became a community-wide undertaking.
Rabbi Osher Kravitsky is director the camp. "One of our older bunks decided to make wristbands for each camper with the name of a different soldier in the IDF on it. Each camper committed to a specific mitzvah for 'his or her soldier' in Israel." The idea caught on with the whole camp, and soon with the greater community. "Everybody wanted to get involved for Israel."
Focusing locally, the camp took one group of 7-12 year olds  to visit a senior home. "In camp, we talked about bringing happiness to other people's lives and we turned it into an adventure," Kravitsky says. "The kids really responded to the idea of making a difference to their community and were genuinely excited and proud about the prospect."
Like Greene, he has found that these experiences often lead parents to seek out more opportunities for their children to engage Jewishly during the he year. A good number of campers end up joining year-round programs like Hebrew school and youth minyan, he says.
"The Rebbe knew what he was doing when he made summer camp into a shlichut (mission)," Kravitsky asserts. "When a boy or girl attends a Jewish camp, he or she becomes a source of Jewish connection for his or her entire family. In those short weeks of summer, we are able to plant seeds that last a lifetime."