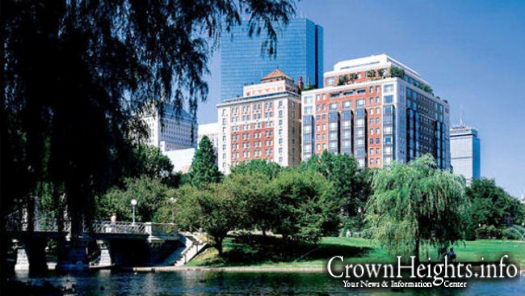 The Taj Hotel in Boston, Massachusetts.
Chabad of Boston will celebrate this year's high holidays at one of Boston's most prestigious and coveted locations.
The organization, founded by Rabbi Mayer Zarchi, will host services for Rosh Hashanah and Yom Kippur at the luxury Taj Hotel, located on 15 Arlington Street in the heart of Boston. The building is close to the Theatre District and overlooks two of the city's best-known parks, the Public Garden and the Boston Common. It lies adjacent to Newbury Street as well, which is touted as one of the most expensive streets in the world and one of the city's major centers for shopping and dining. The hotel underwent a complete restoration in 2002 to commemorate its 75th anniversary.
Zarchi chose to host this year's high holidays services at the Taj based on the historic hotel's beauty and central location, which makes it readily accessible from several different neighborhoods throughout the city.
This is the first year Chabad of Boston will be observing Rosh Hashanah and Yom Kippur at the Taj. The events are born out of the popularity of the group's services at Marlborough Street and its success celebrating Hanukah in Boston's famed Copley Square by lighting a 32-foot high menorah.
"People were so moved by that experience," Zarchi said, to the point where they started asking him about building a Jewish center and synagogue right in the heart of Boston.
Although Chabad of Boston has been holding services at the Taj during the summer, its services for Rosh Hashanah and Yom Kippur will mark the official kickoff of the organization using the hotel as its new synagogue. The group will continue to hold weekly Shabbat services and other events there after the high holidays.
Zarchi emphasized that the services for Rosh Hashanah and Yom Kippur are meant to have broad appeal. He hopes they help attendees appreciate the divinity and beauty in Jewish life and recognize that being more or less observant does not make someone more or less Jewish than other members of the same faith.
"It's going to be a service that is just going to bring everybody home," he said. "It's going to convey the message that we're all part of the ancestral heritage of our people. Nobody belongs more or less. We're one family with one philosophy, one Torah."
For more information and reservations visit http://www.BostonChabad.org