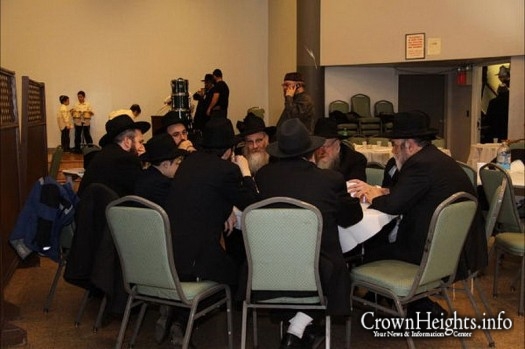 In what has become a yearly tradition, the Shluchim of Queens united in celebrating Yud Shvat. This year, the celebration was hosted by Rabbi Eli Blokh, director of the Chabad of Rego Park/Jewish Russian Community Center of Queens.
The guest speaker was Rabbi Shmuel Butman, Chairman, Lubavitch Youth Organization and featured a special performance by The Mamesh Boys Choir at the direction of Zalmen Niggen and Josh Alpert.
Over 80 participants gathered from all over Queens representing a wide cross section of the Queens Chabad House communities.
After the official farbrengen, the Shluchim joined Rabbi Butman for an 'unofficial' farbrengen.
Seen at the table are Rabbi Shraga Zalmanov, Chabad of Flushing, Rabbi Sholom Ber Hecht, Chairman, NCFJE, Rabbi Eli Blokh, Chabad of Rego Park, Rabbi Yossi Blesofsky, Chabad of Bayside, Rabbi Yossi Mendelson, Shliach and Rabbi of Congregation Machane Chodosh and Rabbi Shlomo Nadtochy who recently joined the staff of Chabad of Rego Park to work with the Russian speaking community.