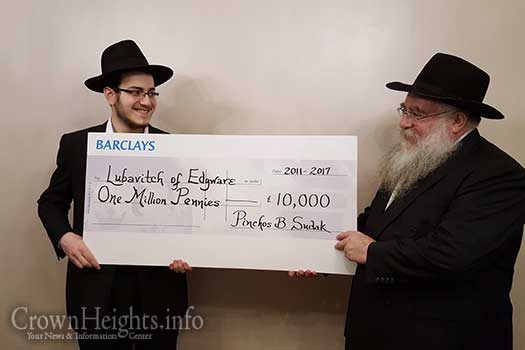 A Bochurs ambitious goal to collect 1 million pennies before his Bar Mitzvah was recently realized and donated them to Chabad of Edgeware, England.
As 2017 came to a close Pinchos Sudak finally reached his goal.
Six years after he started his Bar Mitzvah Project to raise 1 million pennies for Lubavitch of Edgware, with the help of hundreds of generous contributors, he had them all.
The money is being donated to purchase a Marquee for the overflow of the Shul, particularly over the Yom Tov times, as the building is just too small.
"If you still have a penny container at home or would like to add to his donation, it will help to outfit the Marquee to make it more suitable to use on a regular basis. Thank You Pinchos!" said Rabbi Sudak.