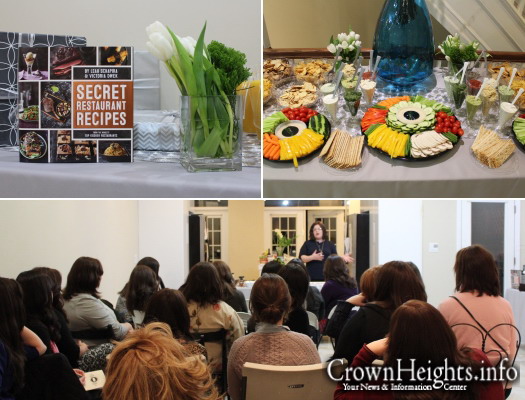 The Friendship Circle of Brooklyn treated its "super moms" to an enjoyable program and some well deserved time out: an evening with Mrs. Shifra Klein of Joy of Kosher Magazine. The program was titled "Shabbos in an Hour."
Beautifully setup, all attendees received a complimentary copy of the Chanukah edition of the Joy of Kosher Magazine, a recipe book with the evening's menu, including a collection of FC mothers' favorite Shabbos treats.
Gifts were sponsored by Silver Spoon Store and SeforimDeals.com, cake pops by Cravings, a wash n' set by Bracha K Wigs and the most recent Mitzva Boulevard – Shabbos DVD.
A special thank you to the Friedfertig family for hosting, the ever resourceful Mrs. Tzipporah Hahn, Event Committee Friendship Circle of Brooklyn director Mrs. Chani Majesky, Miralle Mazuz and Nechama Hershkowitz.