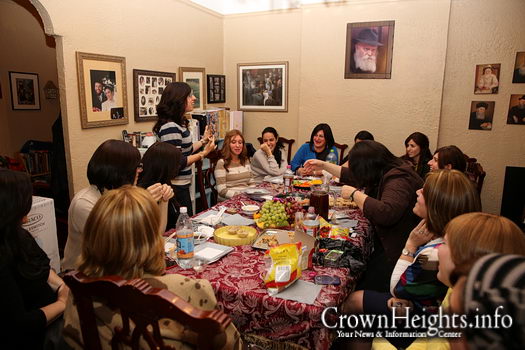 Last night, 17 women gathered together in Crown Heights to meet, socialize and connect. What made this gathering unique? All of those present are mothers blessed with twins and triplets.
The evening was organized by creator of the Facebook group "Jewish Moms of Multiples, Masters of Multi-Tasking," Rivky Perl.
When asked what inspired her to open such a group, her reply came easy: "I just wanted to create a space for other Jewish moms of multiples to share, connect, ask questions and learn from other mothers of multiples."
In the span of 2 years, the group has reached 200 Jewish Women Worldwide, from Brooklyn, Florida and California to France, Israel and Australia. "It helps having different time zones," Rivky laughs, "because you know there will always be someone up."
"Resources when our twins were born were not around like they are today," she went on. "Boruch Hashem, awareness of multiples has come within hands' reach, and many moms are just a click away from a quick tip on handling anything. Still, over the years, what we did not have was our own club. There have been over a dozen of local events annually about child rearing but none relating to multiples directly. I keep sitting through the events and hearing all these amazing methods and ways to raise young children, and I wanted to ask, 'but what do you do when you have 2 or 3 children that are the same age?'"
When organizing this night, Rivky reached out to group member Ahuva Fogelman, mom of 12-year-old boy and girl twins, who also kindly opened her home for the night. Ahuva suggested calling her aunt, Mrs. Shaina Ezagui.
Thankfully, Mrs. Ezagui was available to come and share her continued experiences.
"Mrs. Ezagui's twin boys are in 9th grade. To all of us last night, she was our hero," said Rivky. "She came bearing all smiles, and gave us the encouragement and hope we all so desperately needed to hear.  When it came to Q's and A's, there was not one silent mouth in the house. The camaraderie shared was so special. We felt like we knew each other and were so easily able to relate to one another."
While most attendees were neighborhood locals, a mother from Williamsburg joined the group, and a trio drove in from Queens.
Refreshments and delicacies were enjoyed, and a fun game of interaction was played.
The night ended with a door prize, sponsored by Chaya Pruss, a mom of three sets of twins.
When asked by other moms in attendance what their number one and most useful tip for other mothers of multiples would be, unanimously they answered: getting help. "When people offer, take it. When others ask how they can help, tell them. Every dollar spent on help is worth it for a parent's sanity."
Their number one pet peeve, the moms of multiples agreed, is when other moms compare twins and/or triplets to Irish twins – two children born within the span of a year to 14 months.
"Yes, having two or three kids born close in age is a tremendous challenge, but please don't tell me that you know how we feel or that having Irish twins is harder," said one attendee.
Some women, like Rivky, have had another child born right after her twins. She laughs, "I can't believe I'll be having a double Bar Mitzvah and then a Bas Mitzvah, months apart. I am completely in awe of moms of triplets. Mothers of triplets or more are my heroes. I cannot begin to understand it. They are the real inspiration for the rest of us moms," she said.
Special thanks go out to several local vendors for their co-sponsorship: Dovid Hershkowitz from Sushi Spot, Shlomi Klein from Mr. Greens and Chaya Pruss from Everything but the Baby. This was a homemade event and thanks to their generosity, it was an enjoyable one too.
For more information about the group and upcoming events, click here.