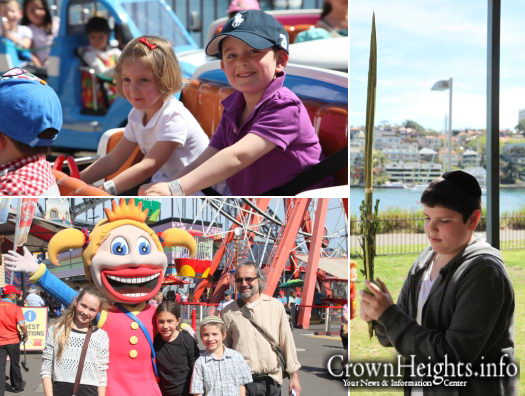 On a beautiful spring morning Sunday, September 22, 2013, the Jewish community of Sydney, Australia celebrated Sukkos with much joy and fun.
Heaven smiled on Sydney's Luna Park and its surroundings with a clear blue sky and a brilliant sun, inviting all to come take part in the festivities.
A Kosher BBQ, Grand Sukkah and half price admission to Sydney's biggest adventure park saw many hundreds of families cross the world renown Harbour Bridge to celebrate Sukkot.
For many it was a chance to shake the lulav and esrog, for others it was the opportunity to make the traditional blessings when eating in the Sukkah and for others it was simply a chance to have a joyous time with their family in the friendly atmosphere.
"We were very happy that we could once again organize this event at Luna Park Sydney," said Rabbi Elimelech Levy of Chabad Youth NSW. "This is our Simchas bais Hashoevah, this is a time when families can come and be happy, Its the theme of Sukkot, of course its also a chance for so many in our community, especially those from remote areas, to come and spend some time in the Sukkah and to shake the Lulav and Esrog."
Chabad Youth NSW is an initiative of the Yeshiva Centre – Chabad NSW Headquarters.