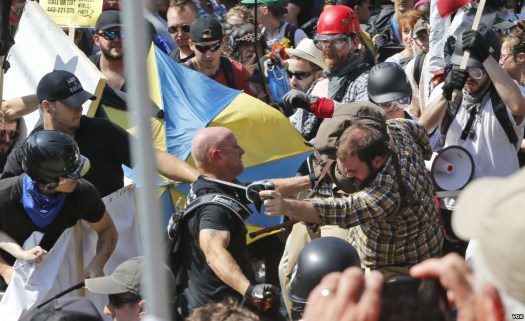 Protesters clash with counter-protesters in Charlottesville, Virginia, on August 12, 2017.
by Bracha B.
This is something that's been on my mind for a while now, but I've refrained from writing about it because I feel uncomfortable exposing something so painful about the community I live in, a community I love and respect in many ways.  In the wake of the tragic events in Charlottesville, though, I feel I can't keep silent anymore.
I have always taught my children to respect all kinds of people, regardless of their religious or ethnic background. I have also taught my children about some of the more painful aspects of our country's history, like the enslavement of black people and their eventual emancipation during the Civil War, the years of Jim Crow laws that followed, and the modern Civil Rights movement.  It's important to me that my kids are able to empathize with other people who are suffering, even if those people are not Jewish. I also like to point out to them the role that many Jews played in the Civil Rights movement, whether it was the freedom riders who travelled through the south to register black voters, the lawyers who fought discrimination in court, or the rabbis and other members of the Jewish community who marched with Martin Luther King, Jr., in Selma.  Just as I want my kids to feel proud of Torah and Chassidus and everything else that is encompassed in our religious Jewish heritage, I want them to be proud of what modern Jews, many of whom are secular, have done and continue to do for oppressed people in this country and around the world.
I would love to be able to say that my kids have found other like-minded souls in our Crown Heights community, but that is not generally the case.  The kids in their school often make racist jokes, or taunt black people they see on the street from the window of their school bus.  They call dark-skinned students names. If it were just the kids, I could write their behavior off as vile, yes, but also the result of youthful ignorance.  But it's not just the kids.  My children have encountered camp counselors and sometimes teachers who will either be casually dismissive of racial minorities or blatantly, disgustingly racist.
I know that people are imperfect, and religious people are no exception.  But it seems to me that a community whose name literally means village of love ought to be held to a higher standard of human behavior.  How can we call ourselves Lubavitch, how can we wear a label that should be synonymous with love and acceptance, and then be indifferent to the suffering of a racial minority? Or worse still, casually supportive of it?
This is all especially perplexing given the number of stories out there that highlight how often the Rebbe reached out to people of other faiths and backgrounds to give them support, like the time he met with Shirley Chisholm, the first black woman in Congress, to encourage her to ignore the southern racists in Congress trying to knock her down. Imagine if the Rebbe heard young boys with yarmulkes and tzitzis nowadays drop the N-word, what do you think his reaction would be? Would he not bow his head in shame and wonder where we went wrong?
But, you say, but, but, but…There is so much to love about our community, why are you focusing on this one thing? But there were riots in the 90s, when members of the black community attacked Jews, how dare you tell people they can't be racist? To the first point I say, yes, there are many beautiful aspects of our community, like the different organizations we have to help each other out, like the vibrancy I experience on the streets every day, like the love and excitement I encounter for yiddishkeit among so many members of the community.  My criticism doesn't negate any of those things. In fact, it's the existence of all these positives that makes the racism so profoundly confusing.  If terrible people said terrible things about minorities, it would still be offensive, but it wouldn't be confusing. It would make perfect logical sense. When good people say terrible things about minorities, that's disturbing, because it means they live on a planet where one can pray to G-d three times a day, give money to charity, and do many other things associated with being a good person and a good Jew, but somehow miss the part about treating all human beings with dignity and respect regardless of the color of their skin.
To the second point, the riots in the 90s are no excuse to be racist.  First, because the acts of a few members of the black community are not a reason to condemn the whole. Think to yourself of the many negative encounters you may have had with your fellow Jews. Do those encounters make you an anti-Semite or inspire you to condemn the entire Jewish nation, or do you shrug those encounters off because you know enough good Jews who counter the bad stereotypes? And second, the whole idea of human rights rests on the notion that people are worthy of dignity, respect, and equal treatment because they are human, not because they did something to earn it in your eyes.  There are many members of the black community who lead brave, admirable, accomplished lives, but even if there weren't, they would still be worthy of equal rights because they are your fellow human beings.
Someone reading this might argue, but wait, you just said that we shouldn't judge the black community by the acts of a few, so how can you say that our community is racist based on a couple of anecdotes?  I have never taken a complete census of our Chabad community here in Crown Heights, so I really don't know if the racist comments I have heard over 30-odd years are truly representative or if they are simply the words of a vocal minority.  If that is the case, if there is a silent majority who cares about human rights and does not want to see their fellow citizens persecuted or disenfranchised, then maybe it's time we stopped being silent. Maybe it's time we called out our fellow community members for dropping the N-bomb or for referring to their cleaning help as "my shvartze," maybe it's time we protested landlords who discriminate against black tenants, maybe it's time we demanded a school curriculum that covers the Civil Rights movement.
Because if we are going to wear the label "Lubavitch," if we are going to truly be a village of love, there can be no place for racism.