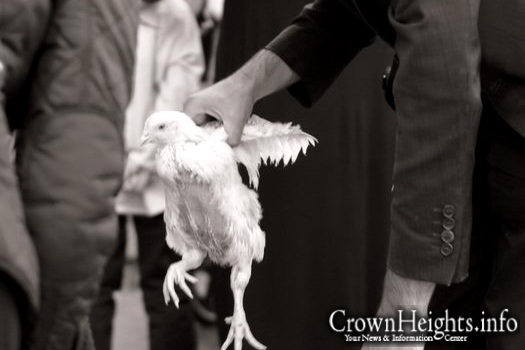 The following op-ed was sent by an anonymous member of the Lubavitch community in Miami to CrownHeights.info, describing the hardship borne by a large family with copious Yomtov expenses when shelling out $23 for each Kapparos chicken, a phenomenon he describes as "price gouging":
Ever hear the expression "Es Toig Oif Kapores"? What it means exactly, I do not know. However what I can tell you is that the fact that "Es Toig Oif Kapores" – makes it go up in value; tremendously!
I used to think it meant that something was worthless or barely usable. Well, times have changed, I guess. Nowadays 'Kapores' actually indicates great profitability. If you are on a tight budget and hear these words ("Es Toig Oif Kapores") you may immediately realize that this is way over your head.
Consider this: a ready-to-eat Rotisserie Chicken in your typical kosher take-out costs how much? $10? $12? Let's even say $15. It's been delivered to the slaughter house, Shechted, cleaned, Salted & packaged. Then it was delivered to the wholesaler who delivered it to the store. Then it was prepared and is now on display for sale to the consumer. All of these entities along the way are certainly not doing their work for free. Yet BH the good tasting Kosher L'mehadrin chicken is fetching only 10 to 15 Dollars.
Now go to Kapores. A small miserable looking live chicken which came straight from the farm, and who knows if at the end will even end up in the mouth of a Yid, yet the charge is $23!!! Multiply that by 10+ and you're looking at a good $250!
Does this make sense?! Is this right?!
I hear that in Crown Heights they are charging $5 or so per chicken. Granted the price in past years used to be a little higher and is now being subsidized by some generous people. This makes some sense. We are in the range of a reasonable price, yet enough to allow the Moisad and people involved to make some money. But Twenty Three Dollars?!
My problem is with the Tmimosdike Yid who takes the Shulchan Aruch literally and wants to fulfill the Minhag of Kapores in the "correct" manner. He has a large family KA"H and who knows, his wife may be expecting. Money for Yom Tov he doesn't have. But he has no choice: a Mitzvah is a Mitzvah.
Is it really a Mitzvah or obligation to line some Yid's pockets with money on the account of simple, poor, well meaning Jews? Does this make any sense? Shouldn't Rabbonim just inform their people to take some money and give it to the poor? Does The Alter Rebbe not Pasken that it's better not to eat fish (or meat) on Yom Tov if there's price gouging?!
I'm in no way a Rav or authority to determine what's the correct thing to do. I do however believe that I possess a few grams of common sense and this just makes no sense!
Before you jump to conclusion that my thoughts "Toigen Oif Kapores," please take a few moments to think about the less fortunate and people who are going through hard times but are very sincere and innocent minded regarding their Mitzvos and "obligations."
Is it okay to do Kapores on a cooked chicken? Because it literally comes out to BOGO! (Just kidding, I know the answer).
A Chasima & Gmar Chasima Tova L'shana Toiva Umesuka.