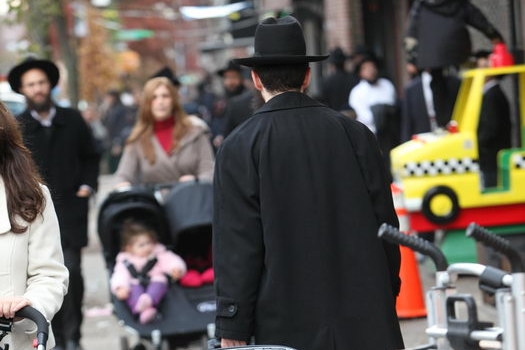 Illustration photo
CrownHeights.info received the following letter from a Shliach, a Crown Heights native, who spent a couple of weeks in the neighborhood for the first time in over ten years. This is what he wished to share:
There's a song I remember hearing as I child in my mother's kitchen. In "those days" we didn't even have a cassette player in our home, therefore I believe I heard it playing from the small black radio in the Kitchen (the only "advanced" equipment we had in the entire home – even the fridge was way older than us). Remember the Art Raymond Simcha Show?
The song is in Yiddish & it goes something like "my Shtei-ta-le Belz". In it the singer reminisces about his childhood city Belz which was a beautifully Jewish place.
A song is a song, not always does it totally match reality. It certainly brings out certain feelings or emotions. A song does have the power to relate a story, a certain state of being; an imagination of what was or should be.
There's a story told about 2 Yeshivah Bochurim who were away in the "big city" (let's call it Warsaw) which had a large Jewish community and was known for its great Torah institutions. Upon returning home to the little Shtetel they were surrounded by the curious townspeople who were eager to hear what life was like in the Groiser Shtetel – for a Yid & his Yiddishkiet.
While one Bochur related the "wonders" of this spiritual mecca, so many shuls Shiurim & institutions of Tzedakah. The others account was very bleak. After all "how could Yidden live their whole life in this metropolis with so many theaters and so much Goiyishkiet". He described how challenging it was to fight off all the distractions.
I had the privilege to spend this past YomTov Succos in Crown Heights together with my family. Because of the many negative stories I heard & read over time, I imagined to expect to see a CH which I didn't grow up in. The people I speak with and the articles I read over the past 10 years could not be making things up. Certainly people are not just deliberately being negative. Right?
Wrong!
I haven't really been to CH for 10 years. Yes, I usually make it to the Kinnus & come in for Gimmel Tammuz & the occasional Simcha. But that's not really "being" in CH. This time I spent an entire 2 weeks in the schuna I grew up in.
I was amazed at and thoroughly enjoyed the experience. How nice it was to see an Erev YomTov with the streets hustling & bustling with people going to & from stores, Shul, buying Lulav n Esrog & building Sukkos. For my children it was the first time they have seen so many Sukkos (and Jews; let alone Frum ones)!
Of course one also couldn't help but notice certain things which perhaps need improvement. But the reality I saw was one of Yiddishliet, chassidishkiet and friendliness. Just to walk in to shul & see all the various printed material – for all levels. (By the way, somebody would do very well investing in a Shaimos Service; forget high-tech. In CH this is the wave of the future).  All the notices for Shiurim and the many places available to the public for learning.
To walk in the street on Yom Tov and to see so many Yungeliet with their families coming out of the so many different  Shuls. To see all the young Bochurim going out on Mivtzoim, Whether via Sukkah Mobile or Subway. To dance at Simchas Beis Hashoeiva or join Farbrengens or even just to visit with family & friends.
I came to the pleasant conclusion that indeed Crown Heights is NOT what it used to be. Its actually better! Sure, there are problems & issues which need to be dealt with. However, "Ah Gast Oif A Vail Zet Oif A mile". I saw more than one mile. Miles! Miles of expansion. Miles of good. Miles of Chassidishe warmth!
Before you react to how naïve this all sounds. Please take a few minutes to learn the Sicha of Our Rebbe in Likutei Sichos Chelek Yud on Parshas Noach. Like I said, there are many things which MUST be addressed & corrected. Certainly I didn't agree with nor enjoy everything I saw. But the overall sentiment I have, is expressed in my words above.
"My Shtetale Crown Heights"! With all your issues. With all your problems. There's none like you! I love you My Shtetale Crown Heights! You are a true Chabad place! Everybody has a place and comfort in you even if he or she is not perfect in every way.
Sincerely,
Rabbi Avrohom Brashevitzky, Chabad of Doral, Florida