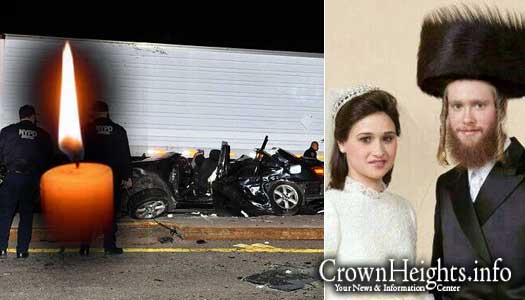 Twelve years and one week ago was the Yohrtzeit of Yosef Chaim Paley, just a few weeks shy of his Bar Mitzvah. His mother, Mrs. Leah Paley penned a powerful letter following a week filled with tragedy capped [hopefully forever] with the horrific news of the tragedy in Williamsburg on Motzai Shabbos. In her letter she pleads 'cant we all just get along?'
Dear Klal Yisroel,
Today is Monday.  I woke up to tragic news.  It has been going on for a full week.
Last Monday was my oldest son's 12th yartzeit.  12 years since I last hugged and kissed him.  It is way too long.  I cried and cried by his graveside.  I see endless fighting among Klal Yisroel, and it pains me deeply.
On Tuesday, my friend gave birth.  Sadly, the baby who died 11 hours after he was born.
Middle of the week, a 3 month old baby died.
At the end of the week, a 19 year old boy dancing at a chasunah suddenly passed away.
Over the weekend, a young couple lost their lives on the way to the hospital, but the baby was miraculously saved.
Here I am back at Monday.  This morning I heard the baby died.
How much can we bear?  How much will HKB"H potch us and ask that we get along.
Last night I swallowed my pride.  I called my father, whom I haven't been speaking to for months over the stupidest thing.  I explained why I was calling and apologized.  He was so happy to hear this, and we are going to pick up our relationship again.
Now I am in the process of reviewing the other people I am "not talking to".  When I look back, some of them are for such silly and petty reasons.  It is so totally not worth it.  I have friends who are in fights with their families.  I know people who don't like this sect of people because they don't learn, or they don't like the customs or they dress differently than they do.  WHO CARES????  Now is the time to stop hiding behind anonymity.  People have no problem posting disgusting comments to others on various web pages.  They think that no one will know who really said it.  They are forgetting that not only does Hashem have a eye that sees and ear that hears, but He is also recording it.  Who wants to have to explain, well, I thought no one knew it was me.  If you won't say it in person, to their face, then you shouldn't say it in a comment without your name.  We need to stop looking outward at others, judging them and finding them lacking.  Inside, turn your focus inside.  I am sure each and every one of us has something that we have done to hurt another person.  Search your brain and your heart, and I am sure you will find.  Then do something.  Now is not the time for us to sit back and complain that "all those ladies are not dressing tznius".  Now is the time to show Hashem that we truly love each other.
I heard a shiur recently.  The rabbi was saying that we need to really, truly feel the pain the other person is going through.  It isn't enough to read off a list of names while saying tehillim.  Feel for them.  Cry for the girls who aren't married.  Cry for the people who are suffering with illnesses.  Cry for the mothers who are not holding their babies.  Cry for all the pain and suffering klal Yisroel is suffering.  I can tell you this, it truly works.  I have a friend who is single.  I sat and pictured how I would feel if she were my daughter.  You know what?  I really did cry.  I begged Hashem, please help her find her shidduch.  (I wish I can say this has a happy ending, but so far it hasn't happened.)  Another friend has a close relative who is sick.  I know what the family is going through, because I went through it with my son.  We need to put ourselves into their shoes, and feel their pain.  Only then can we unite together.  Only then we will be eesh echad b'lav echad.
There is a famous story of a rav who went to the doctor with his wife.  The doctor asked what is wrong.  The husband said, My wife's leg pains us."  That is it.  The pain of everyone else needs to become our pain.  It is heavy.  It is hard and it is very sad.  But maybe if we ALL do this, we can show HKB"H that we really and truly want Moshiach.
AD MOSAI!  AD MOSAI!  AD MOSAI!!!!!!
Sincerely, Leah Paley / Richmond, VA