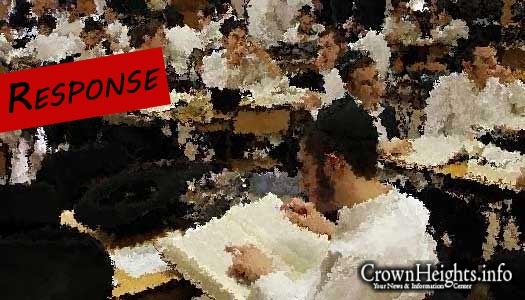 Dear Yanky,
I read your recent article entitled "Ad Mosai? How Long Must I Be in the System?" with great interest. First of all, I want to compliment you on your writing. You say you never had a secular education, yet your writing is so clear and lucid, straight forward and thought out. In addition, while writing about something that is bothering you, you sound so positive and good natured. I commend you for that.
Regarding your question about the necessity for a bochur to learn smicha, I think your question can be divided into two separate points. First, why is it so vitally important for a bochur to continue learning until he gets married? Shouldn't he work on acquiring the skills needed to support a family? Second, assuming that it is so important for him to learn, why smicha?
THE NECESSITY TO LEARN UNTIL MARRIAGE
From your article you seem to be someone that has an appreciation for the Yeshiva environment. You write that it was "the chassidishe and wholesome atmosphere" in Yeshiva that shaped you into the person you are today. I'm sure what you are referring to is very much similar to the atmosphere I'm sure you helped create while you were on shlichus. But in addition to the general atmosphere in Yeshiva, learning Torah has a direct affect on a person.
I once heard that Rabbi Ephraim Wolff, who was the director of all the Chabad activities in Eretz Yisroel, posed the following dilemma to the Rebbe. On many occasions he needed to make pressing decisions and wanted the Rebbe's advice on them. However, due to the time difference between New York and Israel, he was not able to reach the Rebbe for a few hours and could not wait until then to decide. The Rebbe told him that every morning he should study Gemoro for two hours, and by doing so he would make the right decisions.
In other words, through learning Torah a person starts to think in a "Torah way." The way he sees the world, the way he forms his opinions, and even the way he interacts with people is different. Of course there is the Mitzva of Limud HaTorah. However, the above mentioned is another reason that we spend our days learning Torah. It is what shapes us into the frum and chassidishe fathers that we want to be. Therefore, to me it would seem foolish for someone to leave this behind and go out and work earlier than absolutely necessary.
I think this is especially crucial during the year of smicha. Although a bochur develops tremendously during his yeshiva years, (or at least we hope he does,) he really becomes an independent person when he "graduates" yeshiva. The year of shlichus, and especially the years of smicha and 770, are when a bochur no longer has a mashgiach supervising him to make sure he isn't doing anything he shouldn't. No one is forcing him to come to seder. It is during these years that a person really becomes his own man. Spending these years in a Torah environment, and most importantly learning Torah during that time, will help him continue on the proper path.
Yanky, from your article you seem like an open minded person, so I will risk taking my point a step further. In your article you insinuate that you don't plan on spending a year in kollel. I will be bold enough to suggest that you may want to reconsider. The first year of marriage is a crucial time during which a person, both consciously and subconsciously, makes decisions and sets standards for his house, family and life. Learning Torah and being in a Torah environment during that time will help you make those decisions and set up a yiddishe, chassidishe home.
You are right that people judge you. We live in an environment that is sometimes based on fallacies and stereotypes. Agreed. But let's be honest with ourselves. If at this period of your life learning is the correct thing for you to do, then do it. If you are someone that wants to build a warm and chassidishe home, and you are willing to do whatever it takes to accomplish that goal, don't allow yourself to be sidetracked by your parents telling you that you need the paper because it will affect the caliber of your shidduchim opportunities.
HOW WILL I MAKE A LIVING?
I think your concerns about getting an education and making a living are legitimate and understandable. You want to feel that you will have the skill and the ability to support a frum family, and don't want to find yourself in a situation down the line that you cannot handle. Yanky, this is a concern you are thinking about now, but something that your parents thought about many years ago. They had the same concern when they put you in a school that had no secular education. They knew that the lack of a formal education may be difficult for you later on in life. They knew that some people may even perceive it as a handicap. However, they felt that come what may, the most important thing for you was your frum'keit. Your yiddish'keit. Your chassidish'keit. Your parents took that risk because they felt that receiving the best Jewish education possible was your greatest chance at continuing to carry on the torch that they received from their parents, and they from theirs. To them, that was more important than you having a head start at making a living. They did that because they loved you dearly and they wanted you to have what is most important in life. You now face the same decision. Should you leave the system now, after so many years, and try to "chap arein" whatever you can before you get married and are thrown into the ocean, or should you stay in an environment of Torah and lay the last few bricks to the foundation you have been building for years.
That, in my humble opinion, is the intellectual perspective to satisfy the nefesh habahamis. From a spiritual perspective, which of course is the only true perspective, the Rebbe writes in many places that a man should not worry about making a living before he gets married. Hashem, who provides to the rest of the world, will provide for him too when the time comes. (See Toras Menachem vol. 16 p. 20; vol. 31 p. 55; Igros Kodesh vol. 18 p. 506)
BUT WHY SMICHA?
Regarding the second question about why there is a need to receive smicha, I too had a similar struggle, albeit a little bit different. When I finished my year of shlichus I wanted to stay in the system and continue learning, but I enjoyed learning Gemoro. I found learning Shulchan Aruch difficult and vexatious. Sometimes I would learn a long taaz, with many different opinions and sources, but finish with no more information than when I started. I found that very frustrating and I just wanted to continue learning Gemoro like I had done my whole life. I wanted to be able to look in Rashi for explanation, and have the geshmak of understanding Tosfos' question. But I learned Smicha. I worked for an entire year and learned Smicha. However, the reason I did it was not because my parents wanted me to do so. I did it because the Rebbe said that Bochurim should get married with smicha. (See Toras Menachem vol. 7 p. 185) Interestingly, the Rebbe also says that not only should bochurim learn smicha, but they should make sure to receive a certificate (or "di papirl" as the Rebbe refers to it in the Sicha) thus proving that they have completed smicha. (See Toras Menachem vol. 4 p. 259)
Yanky, decide by what is true, not easier. By what is right, not more attractive. Stick it out. Keep doing what you're doing. You are doing what the Rebbe wants. You are making the Rebbe proud!