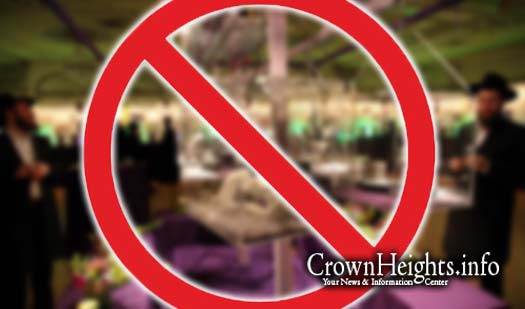 This past Motzaei Shabbos, Keren Simchas Chasson V'kallah held a Melave Malka and Chinese auction. Oholei Torah chose to ban the event for students of the Zal at threat of expulsion. Certainly, no student should ever disregard the orders of the Hanholo, with or without threats of expulsion. Further, when the Hanholo permits a Bochur to attend, it is self understood that he can only attend after Seder HaYeshivah. I am quite surprised at the Hanholo's decision however, because the evening had a lot to offer.

Firstly, KSCVK should be commended for introducing the first only separate men's evening for a Chinese auction and the only Chinese auction with male staff, providing the degree of Tznius that Crown Heights deserves and that the Rebbe wants. Rather than the situation of Taaruvos which prevails during "men's hours" at other events, this event is fully separate. Second, they are to be commended for using a Frum entertainer, who clarified that there were no prohibitions of Kishuf etc. and introduced himself as a Yedid of Chabad. He has also performed in Gan Yisroel Montreal for our children and Bochurim in the past.
Furthermore, they should be commended for preventing under aged drinking and keeping children out of the hall where liquor was served.
The only question that arises, then, is there any reason a Bochur should go to a Chinese auction?
Let's look at three groups of Bochurim. Some will continue through yeshiva and go on Shlichus, which is the goal of Chabad Yeshivos. One of the greatest necessities a Shliach has and he is least prepared for is raising funds. Bochurim today have already experienced fund raising because they raise money for their Mivtzoim, they raise money for their Chanukah tanks, they raise money for their trips to Russia or wherever they may go for Sedorim and they raise money here and there for other good causes of the Rebbe. They definitely can benefit from seeing a well run, Tzniusdik and enjoyable Tzedokoh function.
Some Bochurim will continue learning through marriage and go into Parnosso. These days, Bochurim have more money and more of an understanding of money than in previous times, particularly in Yeshivos that are drawing a crowd from the entire world and from mixed backgrounds. It seems like a good idea that they get into the Tzedoko habit, and a tasteful, fun and appropriate atmosphere is a good place to start. If they begin supporting Hachnossas Kallah at a young age, they will continue.
Another group will begin working before marriage, often as young as 21 or 22. For this group, involvement in community Tzedoko not only serves to increase Tzedoko funds, it is a tremendous way to keep them in the community. Providing appropriate and enjoyable modest events where they see how they can help their friends, classmates, and community is hatzolas nefoshos for them!
Let's be realistic. Bochurim today eat in restaurants in and out of our neighborhood, go to concerts in and out of our neighborhood, and have some worldly awareness. Halevai all of the entertainment would be even moderately appropriate and the standards of Kashrus would be up to ours and Tznius would be observed. Many Bochurim attend sports events or watch them on TV. A properly run Tzedoko event for our Moisad is a great place for Bochurim to be.
Threatening expulsion for attending an event casts aspersions on the event and the organization. Devorah works tirelessly and selflessly for this community, Shluchim, and teachers of our Mosdos! KSCVK is our Tzedoko!
It seems unrealistic that the Hanholo hopes to curb all extra curricular activities, creating a 24 hour lockdown. That being the case, Tzniusdik and appropriate Tzedoko events within the community and under our Kashrus should be the last thing to discourage, not the first. (Superbowl Sunday is coming up.)
May Hashem grant that in the merit of the communities support for Hachnossas Kallah and the wonderful work of KSCVK we will be lead by the Rebbe to speedily hear the kol sasson v'kol simcha, kol chosson v'kol kallah with the coming of Moshiach!!
Name Withheld
This Op-Ed reflects the views of its author. It does not necessarily reflect the views of CrownHeights.info or its Editors.

A reader that wishes to make his or her voice heard on any topic of their desire is welcome to submit his or her Op-Ed to News@CrownHeights.info.