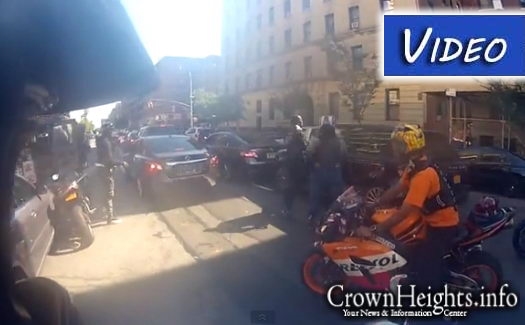 A disturbing video has emerged from yesterday's annual bikers' event in New York City, showing the shocking moment a Range Rover drove through a crowd of motorbikes as it tried to escape a mob of dozens of bikers that surrounded it.
According to police, the bikers started to damage the vehicle after the driver accidentally rear-ended a motorcyclist.
Fearing for the safety of his wife and 2-year-old child in the back seat, the SUV driver then sped off, hitting several bikes in his path – though no people were injured.
The mob then chases the terrified driver and his family for several minutes along the highway. At one point, the SUV stops and a biker tries to enter the vehicle, prompting the driver to flee again.
Forced to stop at a traffic light, the Range Rover comes to a standstill, and within seconds two bikers are off their vehicles and attacking the driver's side windows. The first takes off his helmet and throws it against the driver's door window, smashing it; the second tries to punch through the rear door window, where the young child was seated.
The footage then stops.
An NYPD spokesman said that the SUV driver, a man in his 30s, was taken to hospital and treated for lacerations to his face and body. His wife and child are unhurt. There were no other injuries reported from the incident.
Sources say the city has now banned the riders' annual event.
Warning: this video contains graphic images and may not be suitable for children. Please view with discretion.