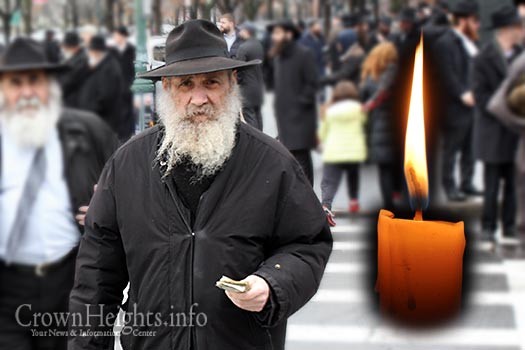 R' Meir Ronnes OBM, photographed 10 days ago in front of 770.
With sadness and pain we inform you of the passing of Reb Meir Roness, OBM, a longtime resident of Crown Heights. He was 74 years old.
R' Meir was a well-known figure in Crown Heights who was frequently seen collecting tzedakah, which went to support Tanya Shiurim in non-Lubavitch yeshivos. As a Bochur he began organizing the Shiurim himself, and later went on to support them. A task he did until his last days.
He is survived by his wife, Devorah, and their children: Chanie Abramowitz (New Haven, CT), Dini Gotlieb (Toronto, Canada), Dvorie Botnick (Crown Heights), Mushky Roness (Crown Heights) Yossi Roness, Shumi Roness, Zevi Roness (Crown Heights) and Mendy Roness (Crown Heights).
The Levaya will take place today, Wednesday, and will be passing by 770 at around 2:00pm.
Boruch Dayan Hoemes