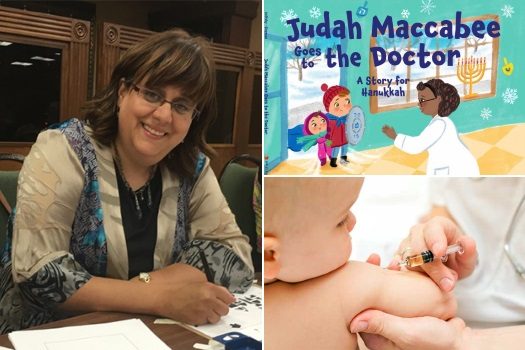 From the JTA:
Like any self-respecting author, Ann D. Koffsky checks her Amazon rankings on a regular basis. "A little bit ridiculously," she acknowledged. Yet when she noticed the rating for her most recent book had dropped to one-star overnight, it wasn't so funny — especially once she started reading the user reviews.
"This book is filled with lies," claimed one.
"Very upsetting," said another.
"Utter propaganda …" began the next.
Soon the "review war," as Koffsky called it, spilled over onto her personal Facebook page.
"I think my favorite comment was the one questioning my mental state," said Koffsky, who has written more than 30 books for children.
Yes, the target of all this rage is a children's picture book, Koffsky's latest, published just in time for Hanukkah.
"Judah Maccabee Goes to the Doctor: A Story for Hanukkah" is about a young boy named Judah who — spoiler alert! — goes to the doctor. With cheerful illustrations by Talitha Shipman, Koffsky's story follows Judah as he learns to channel the bravery of his Maccabee namesake and get a scary booster shot, thus protecting his little sister, Hannah, who is too young to be vaccinated.
"Halachically, a person is obligated to follow the doctor's opinion, especially in matters pertaining to vaccines and other forms of medicine which prevent illnesses and death," wrote Rabbi Sholom Shuchat, a deciser for Chabad-Lubavitch rabbis worldwide, adding that in the Torah, "when someone does an action which can cause death, or even refuses to do an action which can prevent death, he is compared to a murderer."
Click here to continue reading at the JTA.