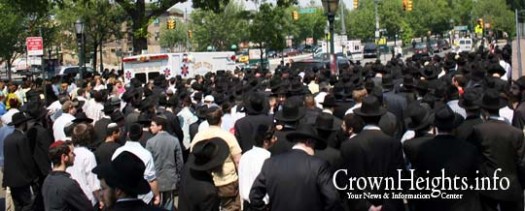 Family, Friends, Teachers, Mashpi'im and people that didn't even know Benny, gathered around his Aron in front of 770 to ask Mechilla and say Tehillim. He was then escorted by a Hatzalah Ambulance along with many friends and members of the community to the Montefiore Cemetery in Queens where hundreds were on hand for the Kevurah.
The family will be sitting Shiva in their home at 935 Eastern Parkway between Troy and Albany in Apartment 1C [entrance from the right side of the main entrance]. Shacharis will be at 7:00am, Mincha and Maariv will be Bizmana.
Hamokom Yenachem Eschem Besoch Shaar Avaylay Tzion VeYerushalayim. Vehakeetzu Veranenu Shochnay Ofor VeHu besochom.