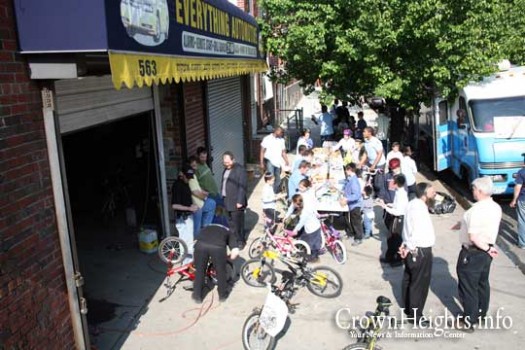 Friday started off murky and rainy but quickly turned into a nice warm and sunny day, enabling the scheduled Bike Registration to go on. The bike registration took place in front of "Everything Automotive" on East New York Ave. together with members of the NYPD's Community Affairs, Auxiliary and Explorer Units along with the Crown Heights Shomrim Division.
The Bike Registration program is aimed at discouraging bike thefts as well as identifying recovered bikes. The summer is upon us and we know that the children are out on their bikes and the theft rates do go up.
Shomrim took it upon themselves to get as many bikes as possible registered, and the turnout was very good, with over 125 bikes and scooters registered not only by children, but by adults as well. The program included lots of free prizes and raffles, including a bike which was sponsored by the "Bargain Center", a scooter which was sponsored by "Zakons Toys and Stationary", and a Helmet Set which was sponsored by "JewishSinger.com", as well as drinks and other refreshments.
Over 600 kids attended and were met by Shomrim Members, Police Officers and Cadets all of whom volunteered from their time to explain the benefits of registering their bikes along with safety tips for the summer among many other things to the kids. Among the attractions was a Police van that kids were able to sit in and play around with the sirens and speakers as well as the Shomrim Mobile Command Post, all of which added to a great and fun filled event.
The winning numbers for the Raffles are as follows: Bike – Ticket #6642174. Scooter – Ticket# 6642094. Helmet Set – Ticket# 6642150. if you are the holder of a ticket with any of these numbers, please bring it to 419 Kingston Ave. [Between Empire and Montgomery] to claim you prize!
More pictures in the Extended Article!