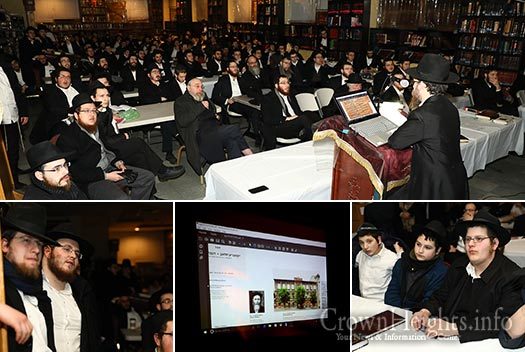 Some 200 Bochurim and Anash gathered Motzei Shabbos at the Kolel in Crown Heights for a fascinating presentation on the Rebbe's early years, including his childhood and youth.
Rabbi Elkana Shmotkin, Director of Jewish Educational Media, shared lesser known anecdotes about the Rebbe and revealed information about some new documents published in the new book – "early years".
Some of the highlights from the presentation included details about the various Rabbonim the Rebbe got smicha from, and the tracking down of a Litvishe Rov who was discovered to have been the Rebbe's teacher for a year. New details about the Rebbe's wedding, as well as anewly found letter from the Frierdiker Rebbe in 5688, which, when examining closely is clearly written by the Rebbe – showing that the Rebbe was his secretary even prior to his wedding.
At the conclusion of the event, the book was sold at a special discounted price for Bochurim.
This event followed an inspiring Shabbos for Bochurim at the Ohel and in Crown Heights which included:
Friday night Farbrengens at the Ohel with Shluchim, including Rabbi Sholom Moshe Paltiel, Shliach in Port Washington, NY, Rabbi Zalman Kaplan, Yeshivas Tzeirei Hashluchim Tzfas and Rabbi Shlomo Chaim Feldman, Yeshivas Lubavitch Chulon.
On Shabbos day Farbrengens at the Ohel were lead by Rabbis Sholom Moshe Paltiel, Shlomo Chaim Feldman, and Chaim Stern. While in Crown Heights Bochurim farbrenged with Rabbi Yosef Katzman.
These events were part of the Yud Shevat schedule for Bochurim arranged by the Vaad Talmidei Hatmimim Haolami.