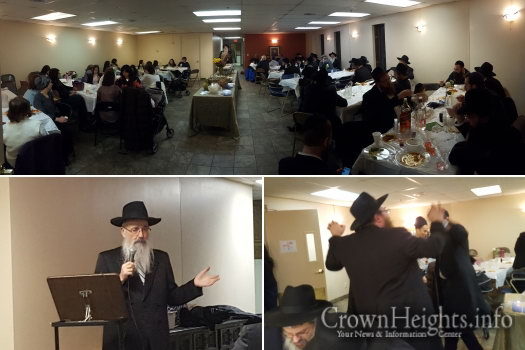 Hei Teves, the Chag Hageulah of our generation, was marked in Minnesota with a truly memorable evening of inspiration and growth. Over 120 men, women, and children gathered in Lubavitch House in West S. Paul, where a festive, multi-course, gourmet seudah was enjoyed.
Visiting especially for the occasion was Toronto Shliach Rabbi Yosef Simcha Gansburg, whose fascinating insights into the history and deeper meaning of Hei Teves left the crowd enthralled.
Also sharing words of inspiration were Minnesota Head Shliach Rabbi Moshe Feller, and Rabbi Asher Zeilingold, Rav of Adath Israel Synagogue. The event was emceed by Rabbi Yisroel Goldberg, Principal of Lubavitch Cheder Day School.
While the adults enjoyed the fascinating speakers, there was a simultaneous educational and enjoyable program for the children, directed by Mrs. Mushki Reindorp and Mrs. Nechama Dina Feller. In honor of Hei Teves, a unique game was introduced: after being given thirty various English seforim to peruse, they were asked questions on various topics and given the page number to find the answer, but not which sefer it would be in. The children gained a new appreciation for the depth, scope, and variety that can be found in seforim, as well as experience in researching. The younger children channeled their artistic skills in the decorating of a Hei Teves-themed flag.
Following the official program, many community members joined Rabbi Gansburg for an inspirational chassidishe farbrengen, which lasted until the early hours of the morning.
The event, which was organized by Vaad Anash of Minnesota under the auspices of Upper Midwest Merkos – Chabad Lubavitch of Minnesota, was coordinated by Rabbi Sholom Reindorp.