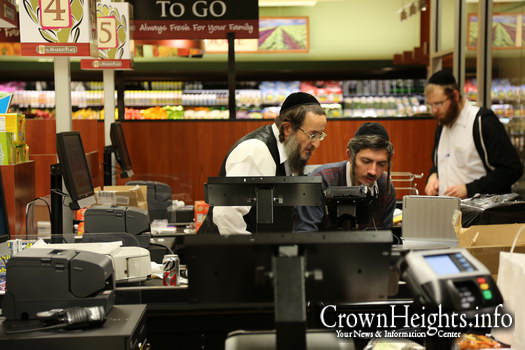 Marketplace manager Shloime Gelbstein (center) setting up cash registers with his computer technician ahead of their grand opening in December.
ALERT: Dozens of Crown Heights consumers are reporting that their credit cards have been fraudulently charged as recent as this week and going back over a month ago. One common denominator is that they all shopped with their cards at 'The Marketplace'.
Reports of the fraudulent activity began cropping up almost a month ago, consumers began getting alerts of suspicious charges from their credit card companies. Charges were being made in nightclubs as far away as Italy, restaurants in Brazil, and at online merchants such as Amazon.com.
Social media sites have been flooded with messages alerting consumers to the fraud.
A common place that nearly everyone had swiped their cards was at the new Crown Heights supermarket called 'The Marketplace', which seems to be the source of the massive security breach.
"If you recently (in the past 2 weeks?) shopped in The MarketPlace and swiped your card there CHECK YOUR CREDITCARD STATEMENT" proclaimed one woman on Facebook, adding that "[Their] system was hacked and someone got a hold of all our creditcard info. The hacker CREATED replica CARDS on new plastic pieces."
CrownHeights.info spoke with Marketplace manager Shloimy Gelbstein who said "we are not sure that we are the source of this breach." Gelbstein explained "we cannot see customer credit cards on our own server."
One Marketplace customer told us that he had shopped at the Marketplace on Friday, February 1st, and sometime the following week American Express alerted him that a charge was made in a nightclub in Italy, that they refused the charge and that they will issue him a new card. This past Friday he shopped at the Marketplace once again and yesterday he got the same call from AmEx.
This consumer was lucky since his card provider stopped the charge before it was even billed, but others have not been as lucky. Some of the cards stolen were debit cards which, when swiped, take the money out ones bank account as the swipe is made, and many debit cards don't have any fraud protection and can leave a consumer footing a fraudulent bill.
Many consumers expressed anger over the Marketplace management not alerting customers to the potential compromise. When asked why they did not notify their customers Gelbstein said "we don't know which customers were affected, nor do we have how to notify them."
Gelbstein added that they have taken precautionary measures and have deleted their credit card processing server and installed a new one, hope that this will prevent future cards from being compromised.