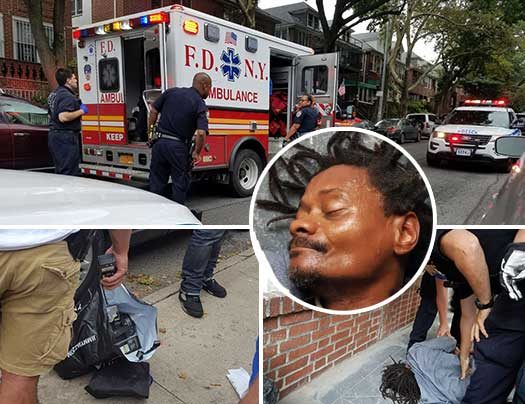 A recidivist burglar and thief was apprehended and arrested after he was spotted by a sharp-eyed Shomrim volunteer as he was breaking into cars on Carroll Street in Crown Heights. When police attempted to take him into custody, he violently resisted arrest.
by CrownHeights.info Staff
A sharp-eyed Shomrim volunteer spotted Charvis McCracken, 46, who is well known to authorities as a recidivist burglar and thief, breaking into a parked car and exiting with valuables stuffed in a bag.
After calling for backup and 911 for police assistance, Shomrim kept an eye on McCracken, who has been repeatedly arrested and convicted of felony robbery and burglary charges stemming from a litany of car and house break-ins in the Crown Heights area.
McCracken was spotted on Carroll Street near Schenectady Avenue by a Shomrim volunteer as he exited a Honda Civic sedan with a bag. While waiting for backup and police assistance, he was observed going into a parked Ford Commercial Van and exiting with a tool box.
He then noticed that he was being watched and attempted to flee. A pursuit ensued, and he was finally cornered on a nearby porch, after running through backyards and alleyways.
When police attempted to place him under arrest, he began resisting violently, requiring some six police officers to subdue him. EMS was called following the altercation so that McCracken can be checked out by medical personnel.
He was arraigned on charges of criminal possession of stolen property, possession of burglary tools, petit larceny, and unauthorized use of a vehicle. He was arraigned in Brooklyn Criminal Court on Thursday and was ordered held on $2,500 bail, which was not posted, so he currently remains incarcerated.
Police recovered LED light fixtures, a toolbox containing power tools, a wallet and phone, as well as a car booster pack in his possession.
This latest crime follows another which he was arrested for last month, on August 3rd, when was apprehended by police for breaking into cars and was similarly charged with Felony and Misdemeanor crimes, including: possession of stolen property, possession of burglary tools, petit larceny, unauthorized use of a vehicle and criminal possession of cocaine.
At the time he was out on $2,000 bail, which was posted by his mother.
McCracken has a long history of brushes with the law, including 4 stints in prison over the past 25 years. His last release came in 2015, and he has since been arrested in January of this year for breaking into cars, and again in October of 2016 while in the process of breaking into a car. In the 2016 incident, police found a loaded firearm in his possession.
Shomrim informed CrownHeights.info that at the time of this arrest McCracken was wanted in connection with another string of car break-ins over the Labor Day weekend, where he dropped a wallet containing his identification in one of the vehicles he burglarized. "He is single-handedly responsible for the rise in [reported] car-breakins in the 71st and 77th precincts," said a Shomrim Coordinator.