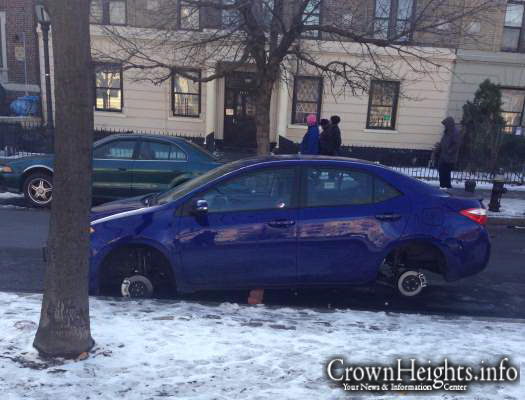 Due to the increasing frequency of these incidents, we have "upgraded" this news feature from Wheel Theft of the Week to Wheel Theft of the Day.
The latest victim: A blue Honda Civic parked on the southern service lane of Eastern Parkway, between Troy and Schenectady Aves.
This is the third Honda Civic whose wheels were stolen in the past two weeks. A Honda Civic parked on Albany Ave. and Carroll St. had its wheels stolen early yesterday morning, and another parked on Crown St. between Troy and Schenectady Aves. had its wheels stolen about two weeks ago. A fourth Honda sedan on Crown and Troy was targeted about a month and a half ago. However, other vehicles, such as Toyotas and BMWs, were recently targeted as well.
By CrownHeights.info's count, this is the seventh wheel theft to occur in Crown Heights over the past six weeks, though it's possible we missed a few and the actual number is higher. These brazen thefts will likely continue until the thieves are caught.
In the meantime, be sure to protect your vehicle in as many ways as possible so you do not become a victim. Anti-theft lug nuts and car tilt alarms are two examples of relatively simple safety measures that can be added to a vehicle.
Remember, even if an added security measure isn't 100% foolproof, it will still likely deter thieves from targeting your car and cause them to move on to an easier target.