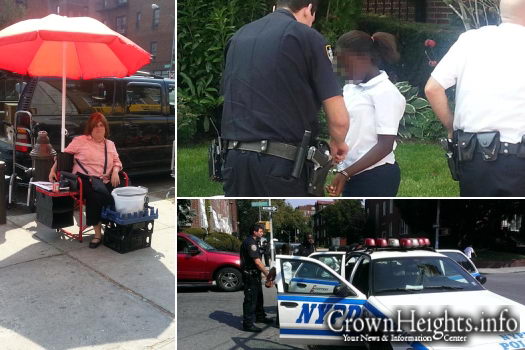 In the hot sun for hours on end, Devorah Benjamin sits outside the Empire Kosher supermarket collecting money for financially struggling young couples to help pay for their wedding expenses. A pair of teenage hooligans took advantage and robbed Mrs. Benjamin, stealing her bucket full of cash and coins.
Mrs. Benjamin works tirelessly throughout the year to help marry off these young men and women through her organization Keren Simachas Choson V'Kallah (KSCVK). When the donations are slow to come, she sits outside the supermarket with a bucket in her hands and tries to scrape together the desperately needed funds dollar after dollar.
This morning, Devorah was robbed by two young African-American teenagers, a boy and a girl, but thanks to the quick actions of bystanders and Shomrim volunteers, the money was quickly recovered.
The two juveniles, 10th graders from a nearby public school, were chatting with Mrs. Benjamin, when one of them suddenly grabbed her bucket and they both ran off toward Brooklyn Ave. The bucket contained about $50 in donations.
Two quick acting bystanders gave chase to the teens, and Shomrim were immediately called.
The teens fled up Brooklyn Ave. toward Montgomery St., where two Shomrim volunteers were waiting for them. They caught them and held them until the police arrived.
While the police were on their way, a crowd gathered and demanded to know why the Shomrim members were holding these two teens. When the volunteers explained what happened, most of them understood and some even thanked them for teaching them a lesson and keeping the community safe.
There was one woman, however, who began to create a ruckus and tried to portray those who sprung into action as racist. She repeatedly attempted to have the thieves leave the scene before police arrived – this after being explained what they had done.
Thankfully, the police wouldn't have any of it. They cuffed the teens and took them down to the precinct, where their records were examined to see what disciplinary steps were appropriate for them. (if their records were clean, they would be released to their parents with a stern warning.)
This incident marks the second time in 24 hours that Shomrim apprehended juvenile criminals in Crown Heights.
If you would like to help and contribute to KSCVK you can do so by visiting www.KSCVK.org – and help keep Devorah out of the sun!