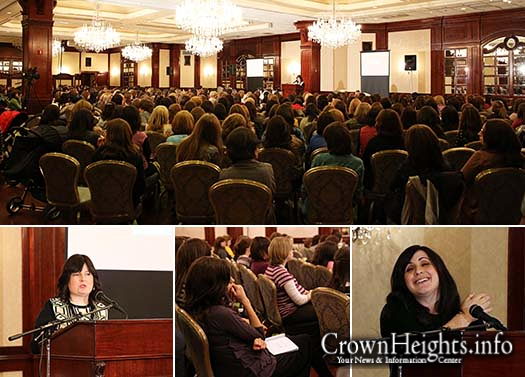 Building on the success of past events, a few hundred woman gathered in the Razag Ballroom for an event titled 'A Celebration of Womanhood,' which discussed a range of topics including communication strategies among couples.
The event featured notable psychiatrist Dr. Feigie Russ, who spoke about the five languages of love. She referred to five items as spending quality time together, using words of affirmation to one another, giving of gifts, doing acts of service and the physical relationship.
Also speaking at the event was Mrs. Chana Labkowski, Shlucha to Sao Paulo, Brazil, who spoke about the power of Siata D'Shmaya, which is necessary for a successful relationships.
The evening concluded with an interactive panel answering questions from the crowd. The panel included Mrs. Sara Morosow, Dr. Russ and Mrs. Labkowski.
Attendees were enrolled into a raffle for a Milano wig and a piece of jewelry. The winners were Chaya Gurari – Milano Wig, and Malka Edri – Jewelry.