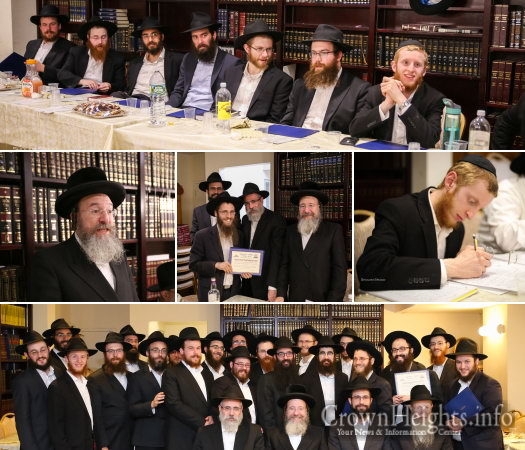 On the eve of Yud Beis Tammuz, twenty-eight Crown Heights teachers gathered to mark the conclusion of their extensive training. The eight week course, facilitated by Igud Hamelamdim and delivered by world renowned teachers' trainer Rabbi Michel Rottenberg, covered everything a teacher should know to succeed.
The trainees expressed genuine satisfaction with the course. "Though the lessons were profound and replete with Chazal and Halacha, they were exceptionally practical and not abstract theory. Rabbi Rottenberg trains teachers to use their own judgment and not to teach out of a textbook."
Rabbi Avrohom Bluming, director of Igud Hamelamdim was most impressed with the teacher's dedication. "The teachers came to this course on their own. They invested their precious time and money (price was significantly subsidized by Igud Hamelamdim and the schools) for the sake of their students. They really earn my respect."
By hashgacha pratis, the siyum fell out on Yud Beis Tammuz, the day when the Frierdiker Rebbe was released from Russian exile for teaching children Torah. The event thus turned into an informal farbrengen with words of inspiration and niggunim.
The elder mashpia Reb Pinyeh Korf began by sharing how the primary decree in Russia was about chinuch, and still, melamdim risked their lives to teach children Torah. He then related some stories of the mesiras nefesh of old time melamdim.
Rabbi Michel Rottenberg, however, highlighted the mesiras nefesh of today's melamdim. He quoted the elderly chossid Reb Schneur Zalman Yudkin who endured nisyonos in Russia, yet he told a group of American yungeleit, "You are the true baalei mesiras nefesh! We were given a choice whether to leave Yiddishkeit or to suffer – were we left with a choice? You can be frum and comfortable, yet you still work hard to connect to Hashem!" Likewise, said Rabbi Rottenberg, our talented teachers could have taken better paying jobs, yet they chose to dedicate themselves to chinuch. That is true mesiras nefesh!
Rabbi Hirshel Lustig, principal of Oholei Torah, spoke of the impact that each teacher can have on all of his many students. He also emphasized the need to raise children nowadays with the theme "a chosid makes a sviva" whether they go out on shlichus or not.
Rabbi Yosef Yitzchok Simpson, principal of ULY Crown St., quoted the story of R. Shmuel bar Sheilas who even when was not with his students, would think about them. Likewise, teachers who come for training during the summer, are dedicated to their students at all times.
Rabbi Simpson then spoke at great length how the main aspect of chinuch is to be an example. Since the saying goes, "There are two who you can't fool: the Eibershter and children." Children don't see grey, only black and white. Moreover, if we want children to be 100% we have to be 200%, since the child thinks that he suffice with half of what his parent/teacher does. He quoted from the Rebbe the importance of dugma chaya in the realm of chayus and geshmak.
One of the graduating teachers, Rabbi Yitzi Klein of Oholei Torah, spoke about what mesiras nefesh in chinuch means today. Rabbi Bluming reminded everyone of the Teachers' Kolel that runs every Monday and Thursday evening, which helps boost the teachers keep up their incredible work.
Photos by Sholem Srugo