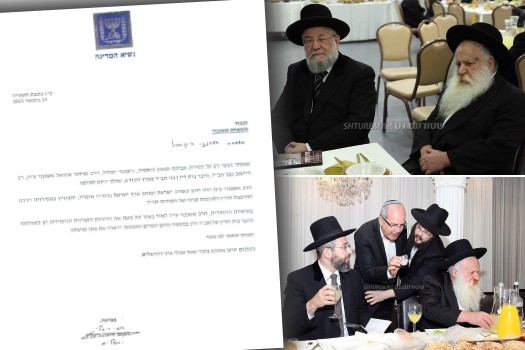 Distinguished rabbis and dignitaries expressed great shock and sadness after learning of the passing of Kfar Chabad's longtime Rov and Mara D'Asra, the Torah luminary Rabbi Mordechai Shmuel Ashkenazi, OBM.
Photos courtesy of Shturem.net
*********
Mr. Reuven (Ruvi) Rivlen, President of the State of Israel, sent an official letter of condolence to the Ashkenazi Family, which read:
"I heard with great pain the news that your father, the great Gaon, Chossid and 'Oived', Rabbi Mordechai Shmuel Ashkenazi, rabbi of the yishuv of Kfar Chabad and member of Beis Din Rabonei Chabad, passed away this morning.
"Rabbi Ashkenazi was known as an Oihev Yisroel and Oihev Eretz Yisroel, and excelled in his dedication to teaching Torah and to raising the Keren of Chassidus Chabad.
"With his unique personality, Rabbi Ashkenazi 'lit with a pleasant light' the Yahadus of Torah and Chassidus, both as a member of Beis Din Rabonei Chabad and in his day-to-day life in his shepherding his flock.
"His presence will be sorely missed.
"Hamakon Yenachem Eschem Besoch Shaar Aveilei Tzion VeYerushalayim."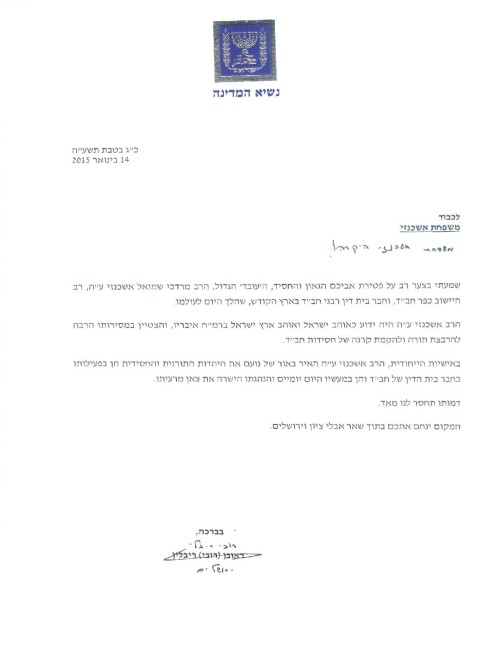 **********
Rabbi Shlomo Moshe Amar, former Rishon Letzion and Chief Rabbi of Jerusalem, wrote:
"Together will all Jews we cry and mourn the sudden and heavy loss we suffered with Rabbi Ashkenazi's sudden passing, who is among the most important and great Rabbis in the State of Israel and in the world.
"Rabbi Ashkenazi was 'never content with little' in learning Torah, he would not draw shallow conclusions, rather he would dig deep until he came meaningful conclusions, as we can see in his many published seforim, especially in his seforim on Hilchos Talmud Torah on the Alter Rebbe, which he complied at the behest of the Lubavitcher Rebbe.
"I knew him for many years; 21 years ago we sat together on a special Beis Din on the inyan of Shmitah, where we would pasken halachos together – what is permissible and what is not for G-d-fearing farmers who were careful to follow the Halachos of Shmitah.
"We didn't compromise on a single detail, and it was there that I saw his greatness in his G-d-fearing ways, which came even before his knowledge.
"Just two months ago we met and sat together on a Beis Din in Bnei Brak on inyonim of Shmitah of this year, and this past Sunday in the special celebration of Siyum HoRambam and the publication of the Seforim of his Brother-in-Law Rabbi Wolpo, and I enquired as to his health. I told him 'I see that you aren't feeling well with your foot;' he answered: 'nu, we have reached the perek of 'Kaitzad Haregel.' 'I responded 'Raglei Chasidav Yishmor,' and this is how we parted in peace, while still having plans to continue discussions into Shvi'is.
"When I heard this morning that he suffered a cardiac episode, I immediately began davening with all my heart, but our tefillos were not accepted and the decree was carried out, and we were hit with this terrible news.
"May it be the will that breaks in the fences be mended, and we will hear good tidings."
**********
Rabbi Dovid Lau, Chief Rabbi of Israel, wrote:
"Am Yisroel lost a great Talmid Chochom, a leader.
"Just two weeks ago we had a lengthy conversation, and I received with great pain the difficult news of his passing. And with prayer to the Almigh-ty that he position faithful shepherds that should continue in his stead.
"I just recently attended the Yud Tes Kislev Farbrengen in Kfar Chabad, where I heard Rabbi Ashkenazi speak. It was impossible not to feel the love that many of the residents of Kfar Chabad specifically, and the many Chabad Chassidim in general, felt towards him."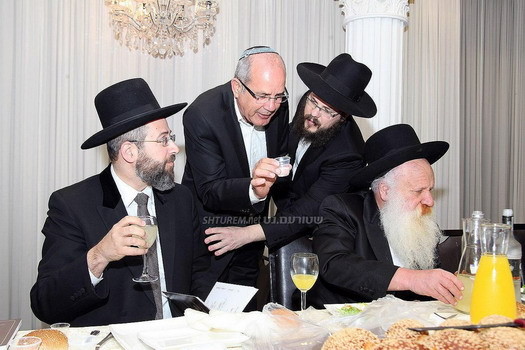 ***********
Rabbi Yisrael Meir Lau, former Chief Rabbi of Israel and Chief Rabbi of Tel Aviv, wrote:
"I am still in shock after receiving the news of the sudden passing of Rabbi Mordechai Shmuel Ashkenazi Ztz"l.
"I knew him since his youth as the son of Rabbi Avrohom Ztz"l in Tel Aviv. Since then I have accompanied him on hundreds of meetings, functions and events in his capacity as the Rabbi of Kfar Chabad.
"For many years I did not know his greatness in Torah, until he visited my office in the Chief Rabbinate and brought me a copy of his wonderful Sefer, 'Hilchos Talmud Torah of the Rambam'. I went over its volumes, and it was evident how big of a Torah giant its author was.
"His sudden passing is a hard blow to us all. He went up to eternal rest, and we are left behind in pain. May he be a Meilitz Yosher to the residents of Kfar Chabad and to all Chassidim. May the posuk 'vehokitzu verannenu…' be fulfilled speedily in our time."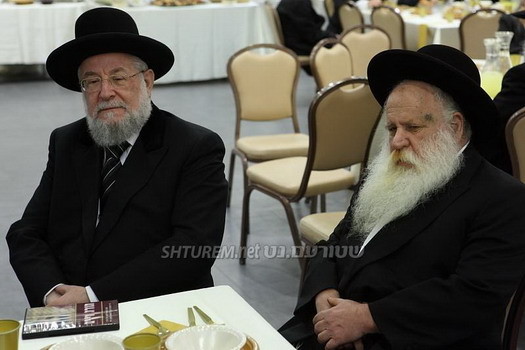 ***********
Rabbi Menachem Wolpo, Shliach in Netanya and Brother-in-Law to Rabbi Ashkenazi, wrote:
"We are shocked and shaken by this great tragedy that has befallen our family, the entire family of Anash and all Jews, many of whom received instruction and halachic guidance from [Rabbi Ashkenazi].
"Rabbi Ashkenazi, while still a 'youngster,' upon entering yechidus the Rebbe greeted him with "Sholom Aleichem Rabbi Ashkenazi." When he answered to the Rebbe that he is still young and is not a Rabbi, the Rebbe waved with his hand as if indicating what will be the future…"