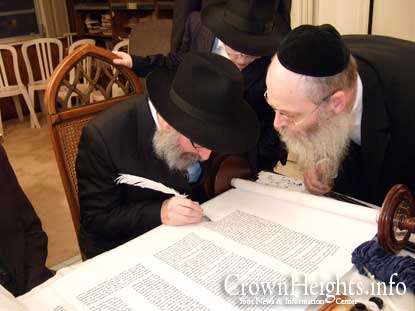 On Tuesday, January 9th a Siyum & Hachnosas Sefer Torah took place at 4515 Alton Dr. in Miami Beach, Florida in Memory of R. Efraim Fishel Brafman on the occasion of his first Yohrtziet.
Friends and family gathered to fill in the final letters and complete the Torah under the supervision of the Sofer R. Moshe Klein. The crowed then gathered at the corner of West Ave. and 12th St. and proceeded with music and dancing to the Yeshiva Gedolah-Lubavitch where they continued with Hakafos and a Seudas Mitzvah.
More pictures in the Extended Article!