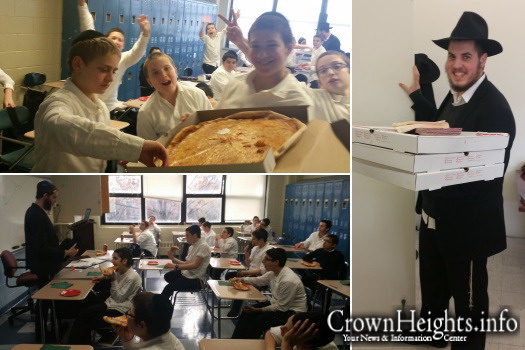 Yesterday, the 7th and 8th grades of Oholei Torah were in for a great surprise.
Over the last couple of years, there have been bochur shluchim from Zal that help inspire and run programs for both grades. One group focusing on 7th grade and one on 8th.
The 7th grade program, headed by Levi Druin, which was launched two years ago, is called "Shvi'in Chavivin," which is a quote from the Rebbe's first Maamer meaning that the 7th is the most cherished.
The 7th grade's shluchim this year are: Shmulik Berkowitz, Mendel Groner, Yossi Mapour, and Eli Wajsbort.
The 8th grade program, headed by Rabbi Yossi Bryski, which has been running for many years, is called OTEG, which stands for Oholei Torah Eighth Grade.
The eighth grade's shluchim this year are: Sruli Edry, Nissi Minski, Yoni Rubin, and Boruch Wilansky.
The Bochurim introduced themselves with a major bang by surprising their classes with Pizza!
Everyone is looking forward to a great, exciting and meaningful year!