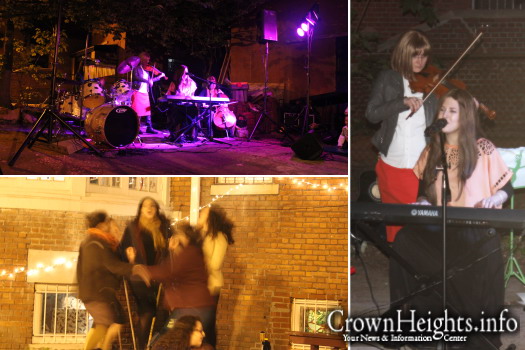 ALIYA-Girls, a learning and social club for young women in Crown Heights, hosted its second annual Lag Ba'omer gathering on Motzei Shabbos with a hit performance by the 'Bulletproof Stockings' Band.
The event, which took place in the backyard of the Reich home on President St., was attended by women and girls of all ages from the Crown Heights community, who mingled over delicious drinks and refreshments and delighted in the eclectic beats and vocals of the all-women band.
Following the Bulletproof Stockings concert, attendees enjoyed a niggunim sing-and-drum-along around the bonfire, led by the band's Perl Wolff and Dalya Shusterman.
Aliyah Girls would like to extend its thanks to the Reich family for their home, Choni Teitelbaum for the sound engineering, and Bulletproof Stockings for a mesmerizing performance.
ALIYA Girls, under the leadership of  Meir and Chaviva New, is a growing organization with the mission to provide a safe and fun environment to the girls in our community through structured activities that inspire them to grow.To learn more or to donate, click here, or email aliyahgirls@gmail.com.