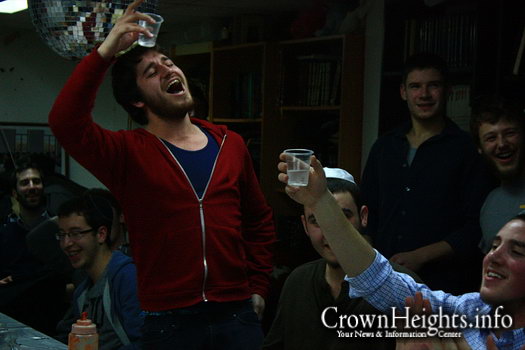 A packed pulsating dining room of Beis Menachem, also known as the R.A.P, in Jerusalem was abuzz with excited anticipation for a raffle that would be sending two lucky winners to spend Yud Shvat in Crown Heights.
Shliach Gabi Kaltman along with fellow Shluchim Shmuly Karp, Shneur Pershin and Mendy Levy gave over his pre-gorel [raffle] speech.
As Bochurim and Shluchim alike sat in silence, he spoke about the preparation and hard work that each and every Bochur put in towards the Mivtza. He spoke about the nachas ruach they continue to give not only to the Rebbe as well as the Rosh Yeshiva Rabbi Gershon  M.M. Avtzon and of course the rest of the yeshiva; each and every Bochur on he's own right.
The Mivtza included a series of requirements that each Bochur was responsible to fulfill in order to receive a ticket into the Gorel. It took off with flying success and the yidishkeit was palpable. Both Shluchim and Bochurim worked overtime in order to achieve more tickets, and at the same time increase their own chance of spending the auspicious day of Yud Shvat with the Rebbe.
After a succession of "lo zoche" draws, and as time was ticking away, the names of Peretz Goldstein and Matisyahu Gillius, the most fitting Bochurim were drawn and will attend along with many other Chassidim, an awe inspiring weekend in Crown Heights.
We wish them much success both in Yidishkeit and Chassidishkeit, and upon their return may they only succeed in their own learning and in inspiring others with their amazing experience.
A big yasher koach to the Shluchim of the R.A.P who put in countless hardworking hours and many sleepless nights in making sure the dream of this Mivtza came a reality.