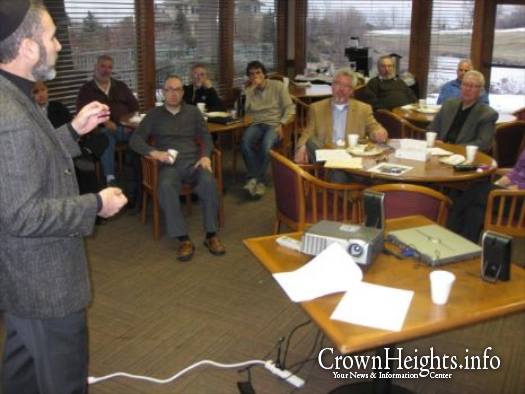 This past weekend close to 100 people enjoyed listening to Dr. Gill Heart of Atlanta Georgia.
Dr. Gill first spoke at Chabad's Jewish Business Group's business breakfast on Friday morning and then at Chabad of NW Metro Denver on that Friday night at the community Shabbat dinner. The talks focused on stress management. More specifically, the application and implementation of Special Forces, IDF, Mind In Control techniques to improve our response every day stressful events.

The instructor, Dr. Gill Heart, holds a PhD degree in Bio-Medical Engineering and is a serial entrepreneur. He served over 6 years in a Special Forces Commando unit in the IDF.
During his army service, Dr. Heart learned to successfully maintain and maximize performance even under extreme circumstances.
"Special operations require dealing with stressful circumstances. Being physically fit helps, but falls short of being the solution."
"Ironically," he adds, "it is all in your mind."
"Compared with my Special Forces army experiences, the stresses we go through on a daily basis are, in a way, more difficult," says Dr. Heart, "it is the continuum and sustained stress that makes it more difficult. A baby that cries non-stop, financial uncertainty or health issue are few examples of sustained stress."
At the end of the talk, participants felt that they acquired a tangible skill: a Mind In Control technique they can immediately put to use and apply to every-day life stressful events.