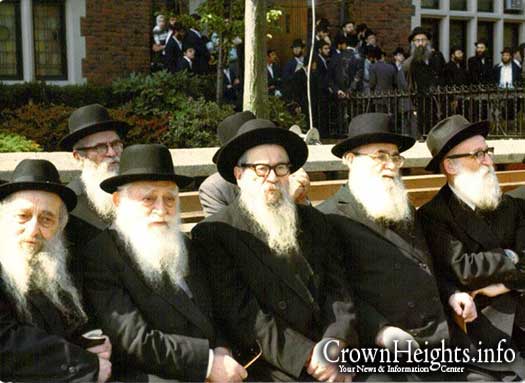 Reb Zalman Shimon Dworkin, the Rav and Mora D'asra of the Crown Heights community for twenty years, was born in 1901 in Rogotchov to Reb Yerucham and Rivka. Reb Zalman Shimon's father was a G-d fearing person and a teacher of unique caliber who taught children unable to afford tuition. Despite his resultant poverty, Reb Yerucham moved his son from the cheder where he was learning to that of Reb Elozor Garelik. Reb Elozor was an expert and searched after teacher whose students generally  were from more affluent families.
Our sages taught us to "Be careful with children of poor families, because from them Torah will come". Aware of his young son's abilities Reb Yeruchem realized that to fulfill his potential, Zalman Shimon needed to attend a Yeshiva. When he was eleven years old, his father brought him to Yeshivas Tomchei Tmimim in Lubavitch, at that  time considered a "manufacturing plant" of students who excelled in Torah, fear of G-d, Chassidus and in refined personal character traits.
Reb Zalman Shimon was enrolled in the division for the younger students who were supported by their parents and relatives. When there was no support available, Reb Zalman Shimon fulfilled his Torah study as our sages have stated, "Eat bread with salt, sleep on the ground and a painful living you should experience". Reb Zalman Shimon devoted himself to Torah study and was very successful. His melamed, Reb Yehoshua Arsh, a gifted and devoted teacher, was so impressed  by his talented and hard-working student that when Reb Zalman Shimon became Bar Mitzva, his teacher personally sponsored the Bar Mitzva seuda and bought him a pair of Tefillin mehudorim.
In the following years, Reb Zalman Shimon reached the "Zal", where the older bochurim studied and he excelled not only in his studies but in his personality which was characterized by sincerity and modesty. People would describe him as an extremely inward person and not in vain did he merit kiruvim and praise from the Rebbe Rashab and the Previous Rebbe.
Reb Zalman Shimon's mashpia in nigleh, Gemorah and Mishnah, was Reb Shmuel Borisover, known for his depth and clear logic, and his mashpia in chassidus was Reb Shmuel Gronam, whose explanations, insights, stories and Farbrengens deeply rooted themselves in his soul; their influence  and impact was lifelong.
Reb Zalman Shimon studied for thirteen years in Tomchei Tmimim. There he absorbed the Chassidic richness and pride that streamed from every corner of the yeshiva; from the students, Ovdim and Maskilim , who were great in Torah and fear of Hashem; from the mashpiim, giants in knowledge of chassidus and in the ways of service to Hashem; above all, the benefit gained by the presence of the Rebbe Rashab and the Previous Rebbe. As a "cemented container that does not lose a drop", Reb Zalman Shimon preserved the memory of it all, which remained fresh and alive until his last day in this world. In addition to this, he himself remained, in his essence, as a "Lubavitcher yeshiva bochur", even after he left the yeshiva, until his last breath.
In the course of his studies in the yeshiva, he became friends with Reb Yehuda Eber, later the famous gaon, with whom he remained close. Another friend was the famous tomim Reb Avrohom Elya Akselrod. Their correspondence was filled with expressions of mutual warmth and feeling. Reb Akselrod later settled in Baltimore, MD where he was the Rav in his community.
During WWI and the Russian revolution, destruction, chaos, hunger and sickness reigned throughout the whole country. When the Rebbe Rashab and the Previous Rebbe moved from Lubavitch to Rostov, the yeshiva remained without a mean of support and the students dispersed. Reb Zalman Shimon was among the students who remained in Lubavitch and in 1918, comprised of these students the yeshiva moved to Kremenshug, in 1920 to Rostov and eventually in 1921 to Poltova.
Reb Zalman Shimon recalled. "After they arrested the Previous Rebbe and confiscated his property, most of the students in Rostov went home. The Previous Rebbe's arrest, as well as the hunger and raging disease, led to the closure of the yeshiva in Rostov.
Reb Binyomin Shlomo Gansburg, in business dealing with foreign coins, told the bochurim that there was food in Poltova and that Anash there would support the yeshiva. Rabbi Ganbsurg, Rabbi Shlomo Itkin, Rabbi Shmuel Dobroskin and additional members of Anash took on the responsibilities of sponsoring the yeshiva.
I entered the Previous Rebbe's room for Yechidus and inquired about traveling to Poltova. The Rebbe rejoiced upon hearing the suggestion and with a shining face blessed me and added, 'When you arrived in Rostov, you were greeted with hunger and by the KGB. Hashem should grant that this trip should be successful and a good beginning for the opening of Yeshivas Tomchei Tmimim in Poltova'. We traveled to Poltova by train. At one of the stops, we were forcibly removed from the train and when we attempted to get back on, we were prevented at gunpoint. We walked the remainder of the way, and on the Friday before Shvuos, we reached Poltova.
Over the course of the summer, students from many different cities flocked to Poltova where we remained until right before Pesach of 1923. After Pesach I received a letter that the KGB has closed the yeshiva and it was being relocated in Kharkov".
In 1924, the yeshiva in Kharkov was closed, and the students left for Rostov. In 1924, at the end of the winter, the Rostov yeshiva closed and the Rebbe moved to Leningrad. The Rebbe requested that a group of six bochurim should remain in Rostov and study shechita.
While studying in the yeshiva in Lubavitch, Reb Zalman Shimon was instructed by the Rebbe Rashab to study Halochos; Yore Deah, Choshen Mishpat and Even Hoezer. He eventually received Smicha, rabbinic ordination, from great Rabbonim, amongst them the famous Rogotchover Gaon, Reb Yosef Rozin in Dwinsk. Although Reb Zalman Shimon was also an expert in conducting circumcisions, as well as being handy in many different areas, he did not want to work as a Mohel.
In 1926, Reb Zalman Shimon married Rebbetzin Tzivia, the daughter of the Gaon and Chossid, Reb Menachem Mendel Dubrowsky, who served as the Rav in the city Krolevetz, in Russia
A year after his wedding, Reb Zalman Shimon was appointed the Rav and shochet of Warunuk, a city in Ukraine. After several years he moved to Stardov, where he served as the Rav of the city.
From year to year as the communist government became more entrenched, the physical and spiritual condition of the Jews in Russia degenerated, particularly from the persecution of religious Jews in general, and of Rabbonim and those working in Jewish mosdos, specifically. Despite all this, Reb Zalman Shimon exerted himself to continue spreading Torah, conducting shiurim for scholars and the Jewish populace at large. At times, he had to remain hidden and he and his wife had very little to live on.
In 1937-38, government's persecutions escalated and thousands of Rabbonim and Chassidim were arrested and tortured. The Rav of Stardov was not spared, Reb Zalman Shimon managed to escape in a miraculous way. He was on his way home, when the agents came to arrest him. Reb Zalman Shimon's wife signaled to her neighbor, who told him not to go home. He immediately left the city and traveled indirectly to Leningrad. After a short period of time, his wife has able to join him. In this large city, Reb Zalman Shimon worked as a book binder to support them both. He continued spreading Torah, conducting shiurim on the Talmud and its commentaries.
With the outbreak of WWII, Leningrad was surrounded by German troops. Reb Zalman Shimon and his wife were left in distress. In addition to the many people who were killed during the famous siege of Leningrad, hundreds of thousands of citizens died of hunger and cold. Bodies were piled in the streets. Reb Zalman Shimon, a member in Chevra Kaddisha would bring the bodies to the cemetery. When the siege was finally over, Reb Zalman Shimon, his wife and other refugees swollen from hunger, and little more then skin and bones were removed from Leningrad.
They were transported to South Russia, where they began to recuperate and regain their strength. In 1943, after much wandering, they settled in Samarkand, where a large number of Anash, refugees lived. Reb Zalman Shimon worked as a guard in a government hospital. Communal leaders among the Chassidim organized a Yeshiva Tomchei Tmimim, which began to grow. There was a need for a Rosh Yeshiva and Reb Yona Kahan, who lived in Tashkent at the time, came to Reb Zalman Shimon's house and Farbrenged privately with him. In the morning, Reb Yona has reached his goal, and Reb Zalman Shimon accepted the position of Rosh Yeshiva.
Reb Zalman Shimon traveled with the yeshiva to the Refugee camp of Waldshtat Poking, Germany and in 1948, they all relocated to Brunoy, France.
In 1950, a group of shochtim began to travel from Paris to Ireland to produce kosher meat for Jews in Israel. After the first group left, another group arrived. Reb Zalman Shimon was appointed the Rav to supervise the whole operation.
On Friday night, the 10th of Shvat that year, Reb Zalman Shimon had a dream in which Rebbetzin Rivka, the Previous Rebbe's grandmother, rushed to the Holy Ark, grabbed a Sefer Torah and left the room. Reb Zalman Shimon awoke very disturbed. He knew that something terrible has happened in the Previous Rebbe's house. He was later informed that the Previous Rebbe was nistalek on Shabbos morning.
In 1953, Reb Zalman Shimon and his wife arrived in the United States and were invited by Reb Sholom Posner, the Previous Rebbe's Shliach in Pittsburgh, and a close friend of Reb Zalman Shimon, to settle in Pittsburgh, PA, where he was appointed as the magid shiur in the highest grade of the Yeshiva Achei Tmimim. Over the course of the years, many Torah scholars from different circles were niskarev to him, connected to him through his shiurim in nigleh and Chassidus. Thanks to his warm relationship with every individual; he was successful in being mkarev them in a pleasant way and greeted them graciously at all times.
In 1960, Reb Zalman Shimon moved to Brooklyn. A large Lubavitch community was present in Crown Heights, schools were created for boys and girls, and many central mosdos for spreading Yiddishkeit were established. With the growth of the community there was need for a G-d fearing Rav of unique Torah and Halacha stature. It was vital that he have experience in Kashrus, Mikvaos and would be able to issue Halachic verdicts on the complicated questions arising from the new developments of the time.
This included counseling and advising of families who found themselves in a problematic situation
Reb Zalman Shimon merited to serve in the last several decades of his life, as the Rav and Moro D'Asra of Lubavitch in Crown Heights.
Reb Zalman Shimon was very involved in building Mikvaos. He was instrumental in rebuilding the Crown heights mikva. In addition, he instructed many different communities on building the Mikvos, based on the Rebbe Rashab's guidelines. When a Rav or an organization objected Reb Zalman Shimon was able to bring original sources and material to disprove them to the extent that they would retract their psak and approve Reb Zalman Shimon's. Reb Zalman Shimon introduced features such as filters to attract new users to mikvoas in outlying communities.
In matters of kashrus, Rabbonim from other communities received guidance from Reb Zalman Shimon; for example, nikur, how to remove the forbidden chelev or fat, from the meat of the animal.
Regarding dairy, Reb Zalman Shimon issued a verdict based on the Alter Rebbe's Shulchan Aruch, that vessels need to be kashered at 212 degrees, prior to using them for cholov Yisroel milk. Recognized Rabbinical organizations follow this directive to this day.
Today, many Lubavitcher Rabbonim through out the world, guide themselves with the Halachic decisions that Reb Zalman Shimon issued.
It is difficult how far reaching was his rabbonus and the many areas it encompassed. Reb Zalman Shimon attended to the needs of a large and expanding community, which included advising and finding solutions for the problems of the youth and for the many couples, newly niskarev to Yiddishkeit and living in Crown Heights. Reb Zalman Shimon also traveled widely, visiting Chabad Houses and assisting Shluchim in building Mikvaos, Kashrus, and many other issues.
In addition Reb Zalman Shimon acted as the Rebbe's agent in many confidential matters that the Rebbe accomplished through Reb Zalman Shimon. The Rebbe was very fond of Reb Zalman Shimon and would refer people with complicated halachic questions, as well as those with personal dilemmas that needed a bright and caring individual to assist them. He was known for treating every individual, no matter who he or she was, with great sensitivity and understanding. In matters of Sholom Bayis, families knew him as a practical and a compassionate advisor. The Rebbe once declared in public, "He is my Moro D'Asra" (my Rav).
It is noteworthy to mention the special zchus of Reb Zalman Shimon, chosen by the Rebbe to represent him in 1981 at the siyum of the first Sefer Torah Hakloli for children in Israel. The siyum was followed by days of commemoration.
"Shlucho shel odom kmoso", an emissary is as if the one who sent him was himself present. Reb Zalman Shimon participated as the Rebbe's representative and was greeted with full honor.
In Iyar 1976, Reb Zalman Shimon was widowed. Although he remained alone in his home, he adamantly refused any offer of help. As he aged and became unwell, his workload remained undiminished. He dedicated himself even more to the community, and especially to the Rebbe's matters, an inward chossid connected and devoted to the Rebbe with the core of his soul. Amongst the last words that he uttered before his ptira was, "However it was and how it will be, I can say that I worked with all my energy; in the day [the heat] consumed me and at night [there was frost which deprived my sleep]". This alludes to the expression of our forefather Yaakov describing the tiring work for many years that he toiled in the house of Laban (Breishis 31:40)
Reb Zalman Shimon became very ill. A week before Reb Zalman Shimon's ptira he was visited in the hospital by a relative. The illness of the year was already at an advanced stage. Reb Zalman Shimon was napping, suddenly woke up and said in an excited voice, "There were the rightists and the leftists in the higher heavens. The leftists did not want to allow additional time [for me] to live, but the rightists gave me another seven days".
His relative did not understand his words but it became clear to him when Reb Zalman Shimon was nifter exactly a week later.
In 1985, on Motzoei Shabbos Parshas Ki-Siso, the 17th of Adar, he asked for a drink and made the brocho shehakol. It is mentioned in sforim, that tzadikim would ask for something to drink before their passing, in order to make a brocho.
Reb Zalman Shimon was nifter close to midnight and the levaya took place the next day. Many rabbinic dignitaries came, paying the last respects to Reb Zalman Shimon. The Rebbe participated in the Levaya and Reb Zalman Shimon was interred directly behind the Holy Ohel.
His modest personality and busy schedule of community affairs prevented Reb Zalman Shimon from publishing his halachic verdicts and his insights on the Torah. They remained as notes in the margins of his Shulchan Aruch. Response that he issued, still need to be prepared for publishing
Reb Zalman Shimon was gifted with a phenomenal memory. The stories and events in the history of Chabad that spanned remained with him. In fulfilling the Rebbe's request for a written record of his memior, Reb Zalman Shimon compiled a vast amount of topics and stories of which some have been published. Sefer Shmuos v'Sipurim contains a significant amount of stories and additional writings were published in the sefer "Kovetz Razash" which contain some of his stories and Halachic responses.