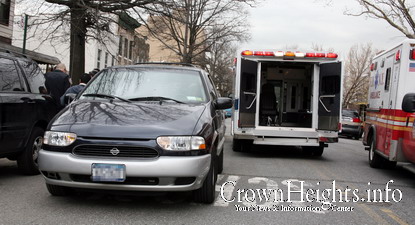 Left: the minivan that struck the mother and child.
Brooklyn, NY — This afternoon at around 1:30pm a mother was crossing East New York Ave. between Kingston and Brooklyn and was struck and injured by a reversing Minivan. The mother, who was holding her infant baby girl in an 'Infant Carrier' on the way to her car, was suddenly struck by a minivan that was reversing.
More pictures in the Extended Article.

The mother suffered an injury to her leg and as result dropped the carrier and the infant sustained a contusion [black and blue mark] to her head. 3 Shomrim members, who were working down the block, witnessed the incident and immediately rushed over to give assistance. One member who is a certified EMT stabilized the mother while the other tended to the infant and the third member had called Hatzalah.
Moments after the call was placed the first Hatzalah member arrived on scene and took over treating the patients, and a minute later an ambulance arrived along with another Hatzalah member, they treated the Mother and Child then transported them to Kings County Hospital for further treatment.
Police filled out an accident report and it was unknown if any summonses were issued.
CrownHeights.info would like to commend Shomrim and Hatzalah for their quick response and action!
At the same time we would like to reiterate what we have said quite a few times in the past, reversing down a block is the most reckless and dangerous thing a driver can do, in the past there have been incidents where victims barely made it out alive of such incidents. Drivers please take note and take the extra few minutes to go around the block rather then take the risk of C"V endangering a pedestrians life.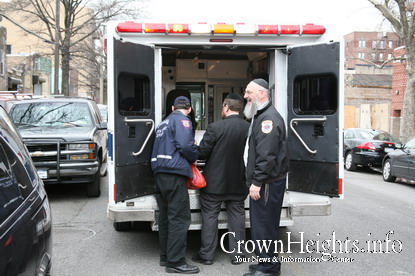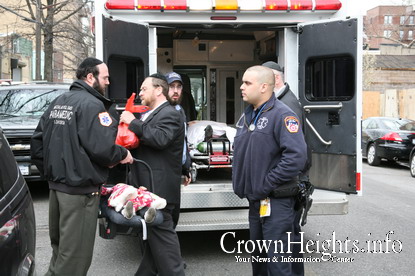 A Hatzalah member carrying the child to the ambulance in order to be transported with the mother.