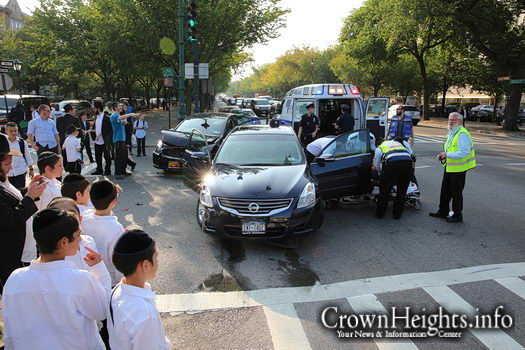 Three people were injured when two cars collided in a busy Eastern Parkway intersection, two children in one of the cars were not hurt.
The crash occurred in the intersection of Brooklyn Avenue and Eastern Parkway at around 4:30pm. One car, a Nissan Altima, attempted to make a left turn onto Brooklyn Avenue and collided with the Sentra, which was traveling eastbound and going straight.
Bystanders called Hatzalah, who arrived on scene before any other first responders and treated the injured – making a big Kiddush Hashem.
All the injured were transported to Kings County Hospital with minor injuries.
Just one week ago three people were critically injured, one suffering an amputation, when two cars collided in a similar manner just one block away at the Kingston Avenue intersection.