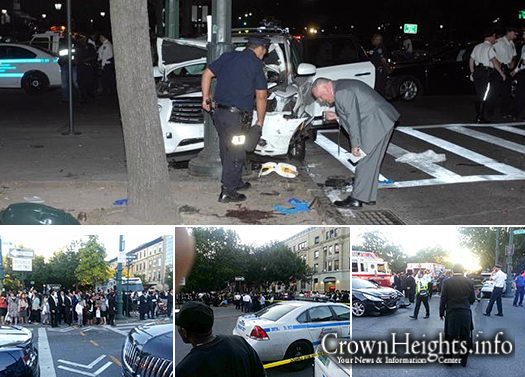 Two cars collided and went careening onto a crowded sidewalk right in front of 770 Eastern Parkway on the first day of Rosh Hashana, injuring five bystanders – three of them critically. One victim lost a leg, but the quick actions of a Shomrim volunteer may have saved her life.
The terrible incident occurred on Thursday evening at around 7:00pm, just as hundreds were making their way to 770 for Tashlich.
A black Hyundai sedan going eastbound was attempting to make a left turn from Eastern Parkway onto Kingston Avenue, when a white Infiniti SUV traveling westbound on the parkway t-boned the sedan, then went careening onto the sidewalk and into a light pole, pinning two victims: one underneath the vehicle and another between it and the light pole.
Five people in total were injured, three of whom were listed in critical condition. A middle aged woman was hospitalized with severe leg trauma, while a 21-year-old woman with severe head trauma and internal injuries was also rushed to the hospital. Both are guests visiting Crown Heights for the holidays. A third victim, a young man, was critically hurt after being struck in the head by flying debris.
A Shomrim volunteer, who was with his family on their way to Tashlich, witnessed the crash and called for medical assistance and backup over his radio before springing into action.
Upon assessing the scene, he immediately turned his attention to the woman who suffered the injury to her leg. Using his belt, he applied a tourniquet in an attempt to stem the bleeding. His actions may have saved the woman's life.
Other rescue personal pulled the younger woman from underneath the mangled SUV and light pole; she appeared to have sustained internal injuries as well as head trauma.
Hatzalah and various EMS ambulances all rushed the patients to Kings County and Methodist Hospitals.
The two female and one male victims were originally listed in grave condition, but Boruch Hashem by morning they all pulled through and are expected to survive.