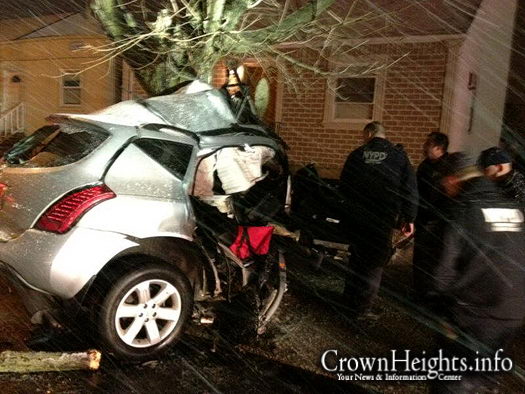 An SUV plowed into a tree right outside the Ohel in Queens and the driver had to be cut free from the wreckage. When the driver was finally freed he was rushed to the hospital in 'traumatic arrest'.
The accident occurred in front of the '4th house' at the Ohel in front of the eyes of many horrified bystanders, who upon seeing the severity of the accident called Hatzalah and 911.
Firefighters, EMS and Hatzalah all responded and made a unified effort to save the life of the driver, while making a big Kiddush Hashem in the process.
Once firefighters managed to cut the driver free EMS rushed him to Franklin General Hospital in 'Traumatic Arrest'. Accident Investigation Squad offiers are investigating the cause of the crash.
Update: The driver, a 27-year-old Queens man, who was first treated by Hatzalah and made a big Kiddush Hashem, since the man was not Jewish, sadly died of his injuries at Franklin General Hospital. Police crash investigators say the single car crash can be attributed to the weather conditions.