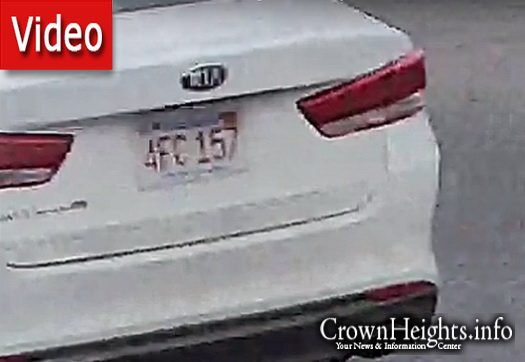 The car involved in Fridays hit and run on Union Street near Albany Ave. has been identified and located by the NYPD. They have impounded the car pending further investigation.
by crownheights.info
As previously reported on crownheights.info, a search for information on a car involved in a hit and run that sent a Jewish man to the hospital Friday afternoon, has born fruit.
Crown Heights Shomrim, who initially responded to the incident, had immediately begun canvasing for video camera footage, enlisting the help of community members with surveillance cameras.
Many videos of the incident were released just minutes after it occurred, but none were able to accurately read the licence plate on the vehicle.
A community member, who owns the alarm and surveillance company SafeZone24, was also contacted, and immediately downloaded video of the incident from the Mr Clean dry cleaners on the corner of Union St and Albany Ave. The footage was clear, and the the licence plate easily identified.
The footage was sent to the NYPD immediately, and has now been released for publication.
The car, identified as a rental, was found soon after abandoned on Union St near Rochester Ave. It has been impounded by the NYPD pending further investigation.
video courtesy of SafeZone24